Yancoal Australia Ltd
Team Veye | 04 Feb 2020

ASX - YAL
| Call | Buy |
| --- | --- |
| Investment Duration | Long Term |
| Asx | YAL |
Yancoal Australia Ltd (ASX: YAL) is an Australia-based pure-play coal producer. The Company is engaged in the production of thermal and metallurgical coal for use in the power generation and steel industries in Asian markets. It holds ownership interests in, and operates, five coal mine complexes across New South Wales and Queensland, and manages five others across New South Wales, Queensland and Western Australia. Its interests in New South Wales include the Hunter Valley Operations (HVO), Mount Thorley and Warkworth open-cut mines (MTW), Moolarben coal complex (Moolarben) and the Stratford and Duralie mines (Stratford Duralie). Its mining interests in Queensland are located in the Bowen basin and include the Yarrabee mine (Yarrabee) and Middlemount mine (Middlemount). Its mining interests also include the Ashton, Austar, and Donaldson mines (Watagan Mines) in New South Wales. (Profile source: Reuters)
From the Company Reports
Quarterly Report 31 December 2019
Yancoal Australia Ltd (ASX: YAL) on 16th January 2020 announced its Quarterly Report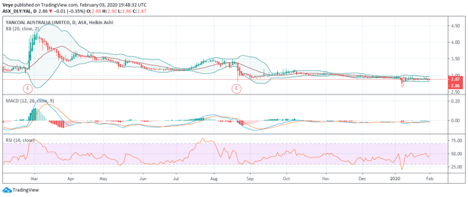 (Chart source: TradingView)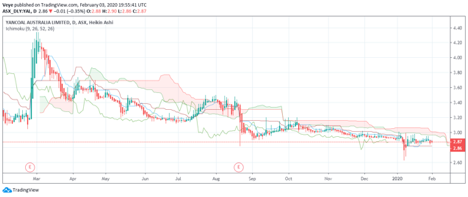 (Chart source: TradingView)
Production – December Quarter 2019 (Q4 2019)
19.0Mt ROM coal production, up 10% from Q4 2018.
14.1Mt Saleable coal production, up 14% from Q4 2018.
9.4Mt Attributable saleable coal production, up 12% from Q4 2018
Highlights
Full-year attributable saleable coal production, 35.6Mt, met 2019 target of approximately 35Mt.
Full-year attributable sales volume was 35.6Mt, 9% ahead of 2018. The attributable sales volume in the Quarter was 10.7Mt, up 27% from Q3 2019.
Average realised coal price for the combined thermal and metallurgical coal attributable sales volume was A$93/t, compared to A$107/t in Q3 2019. Market conditions were the primary driver of the change; the proportion of thermal coal in the sales mix only increased from 85% in Q3 2019 to 87%. Uninterrupted supply and lower demand continue to impact global prices.
Total Recordable Injury Frequency Rate (TRIFR) was 7.11; it was down from 8.13 at the end of the prior quarter.
Half-Year Financial Report 2019 presented on 21 August 2019
Financial Highlights:
Yancoal Australia Ltd ("Yancoal") (ASX: YAL) Profit Before Tax of $492 million for the half-year ended 30 June 2019 (1H19), a $47 million decrease from $539 million in the corresponding period (1H18).
Total Operating EBITDA of $940 million, a $40 million decrease from $980 million in 1H18. The Operating EBITDA Margin for the period was 40%.
Revenue from continuing operations was $2,350 million, consistent with $2,347 million in 1H18.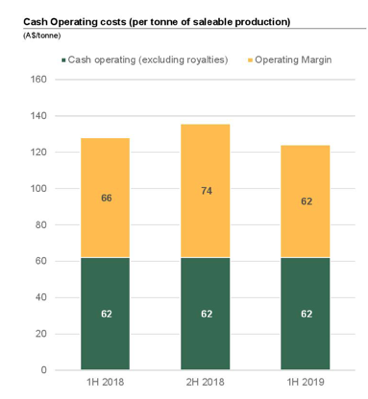 (Graphic Source – Company Reports)
Operational Highlights:
Total Run of Mine coal ("ROM") of 34.4 million tonnes ("Mt") on a 100% basis, with 22.7Mt attributable to Yancoal; comparable volumes were 32.9Mt and 20.7Mt respectively in 1H18.
Total Saleable coal production of 26.4Mt on a 100% basis with 17.8Mt attributable to Yancoal; comparable volumes were 25.4Mt and 16.4Mt respectively in 1H18.
The sales volume of attributable mine production was 16.5Mt in 1H19 compared to 15.7Mt in 1H18. Sales volumes exclude purchased tonnes used to blend and improve the average sales price.
The Group's Total Recordable Injury Frequency Rates ("TRIFR") at the end the Period was 7.29 (12 month rolling average), compared to 8.89 at the end of 1H18.
Corporate Highlights:
The Board has declared an interim dividend of $136.7 million or $0.1035/share (unfranked); this is comparable to the maiden interim dividend of $130 million or $0.1035/share paid in 20182 .
The corporate gearing ratio improved from 34.6% in 1H 2018 to 32.5% in 1H 2019.
The ongoing reduction of existing debt remains a priority and further prepayments are anticipated during the remainder of 2019.
2019 guidance remains unchanged for production, operating costs and capital expenditure
Safety
The Group's Total Recordable Injury Frequency Rates ("TRIFR") improved through the Period. Implementation of core hazards continues with critical control verification a key focus. As at 30 June 2019, the Yancoal 12-month moving average TRIFR was steady at 7.29. Watagan Mining Company Pty Ltd ("Watagan") had a 12-month moving average TRIFR of 17.09 as at 30 June 2019, an improvement in performance since the end of 2018 when the 12-month moving average TRIFR was 23.85.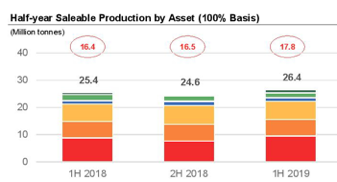 (Graphic Source – Company Reports)
Coal Resources and Coal Reserves Statement for the year ending 31 December 2018
The Coal Resources and Coal Reserves statement presented in this report was produced in accordance with the Australasian Code for reporting of Mineral Resources and Ore Reserves 2012 Edition (the JORC Code). Commodity prices and exchange rates used to estimate the economic viability of Coal Reserves are based on the Yancoal long-term forecasts unless otherwise stated. The Coal Reserves tabulated are all held within existing, fully permitted mining leases, are within areas under applications to become mining leases or are within areas of exploration tenements detailed in the 2018 Life of Mine Plans to become mining leases in future applications.
Yancoal's leases are of sufficient duration (or convey a legal right to renew for sufficient duration) to enable all Coal Reserves on the leases to be mined in accordance with current production schedules.
On an attributable basis Yancoal's group total year-end 31 December 2018 position is as follows:
Measured, Indicated and Inferred Coal Resources are 6,442Mt.
Recoverable Proved and Probable Coal Reserves are 1,240Mt.
Marketable Proved and Probable Coal Reserves are 891Mt.
Financials
The company currently offers an annual dividend yield of 9.20%. The company has a P/E ratio of 3.5. The EPS stands at $0.816. The stock has a market cap of $3.78 billion and a Share volume of 1.32 billion. The stock has a 52-week price range of $2.63-$4.34 (Data Source – Company Reports).
Veye's Take
During Q4 2019, attributable sales volumes (10.7Mt) exceeded the attributable production (9.4Mt), reducing the stockpile inventory. Yancoal purchased additional coal for blending, as is usual, to optimise the overall product mix and realised prices. Its production costs have been stable despite industry cost inflation. Yancoal is trading at 95% below its fair value. Its earnings grew by 74.7% over the past year. Yancoal is good value based on its PE ratio as compared to both its industry average and the Australian market. YAL has high-quality earnings. YAL's current net profit margins are higher than last year. It has become profitable over the past 5 years, growing earnings by 70% per year. YAL's earnings growth over the past year exceeds its 5 year average. YAL's debt to equity ratio has reduced from 501.6% to 56% over the past 5 years. Its debt is well covered by operating cash flow (53.5%). With its low payout ratio of 32.2%, YAL's dividend payments are well covered by earnings. Yancoal has been moving in a very narrow range. After falling in early January this year it has returned to its support level. Veye recommends a "Buy" on "Yancoal Australia Ltd" at the current price of $2.85
Disclaimer
Veye Pty Ltd (ABN 58 623 120 865) authorised representative (AR No. 001261006) of Vested Equities Pty Ltd which holds an Australian Financial Services License (AFSL No. 478987). Veye is authorised to share only generic financial views through its website, reports and newsletters without taking into consideration your personal financial needs or investment objectives. Although Veye takes the utmost care to ensure the accuracy of the content and that the information is gathered and processed from reliable resources, it is recommended you seek professional advice from your financial advisor or stockbroker before acting on any of our recommendations. Veye Pty Ltd advises it's users to pursue investing as a long-term goal. Stocks are subject to real time changes therefore all the information we share represents our views at the date of publishing and we request our readers not to interpret our reports as direct recommendations. Past performance is no indication of potential future performance. The securities and financial products we study and share information on in Veye Reports may have a product disclosure statement or other offer document associated with them. You should obtain a copy of these documents before making any decision about acquiring the security or product. You can refer to our Terms & Conditions and Financial Services Guide for more information. Veye Pty Ltd confirms that the employees and/or associates of Veye Pty Ltd do not hold positions in any of the financial products covered on the website on the date of publishing this report (as mentioned on the website www.veye.com.au).