Are these 5 companies worth buying?
Team Veye | 04 Jan 2018

ASX - RFG, RIO, NAB, STO, BPT
Retail Food Group Limited
Retail Food Group Limited (ASX: RFG) stock crashed in the month of December after the company gave the trading update on the expected impact of continuous challenging domestic retail conditions and other factors on its 1H18 statutory business performance.

RFG's domestic franchise revenues is expected to track lower than expected due to the retailers with shopping centre exposures. The recent negative media coverage about franchising, retail and RFG in particular have also led to a noticeable fall in momentum in new and renewing franchise sales. Therefore, the associated revenues are now projected to be below prior expectations, and future franchise trading revenues are also expected to be impacted.
But, RFG's Crust and Donut King have continued to perform to expectation, while Michel's Patisserie, Brumby's and Gloria Jean's are trading below expectations. Moreover, RFG is negotiating with its lenders to rollover its three year loan facilities of $150 million, maturing in December 2018, into longer dated maturities and will advise the market when the process gets finalized. Additionally, RFG expects 1H18 Statutory NPAT to be c.$22.0m, below than 1H17 NPAT of $33.5m.
On the other side, the company has successfully completed negotiations to extend its three-year debt facilities of $150 million, due to mature in December 2018, into longer dated maturities. RFG has also reduced the existing five-year debt facilities maturing in December 2020 by $25 million, and RFG's total senior debt facilities now being $319 million.
We believe investors can leverage the solid dividend yield of 12.24% and a lower P/E. Hence, we give a "BUY" recommendation on the stock at the current price of $2.46
National Australia Bank Ltd
National Australia Bank Ltd. (ASX: NAB) is undertaking solid initiatives and launched seven Customer Journeys in FY17 aimed to drive customer advocacy through enhanced efficiencies and improved interactions with the customers. This includes a new 10 minute digital transaction account onboarding for the business customers with simple needs, which will significantly reduce the processing time for onboarding new customers and removing the need for a customer to visit a branch. The bank has created simplified digital Superannuation portal to help customers better understand their retirement options and e-forms pre-populated with the existing customer data. The bank made a virtual banking assistant pilot for business customers using artificial intelligence chat technology, which will help customers fulfill simple needs through self-service. Moreover, NAB is also exploring new strategic alliances and direct equity investments through the bank's dedicated innovation fund, NAB Ventures, to fast-track improvements in customer experience and leverage innovative new technologies and business models.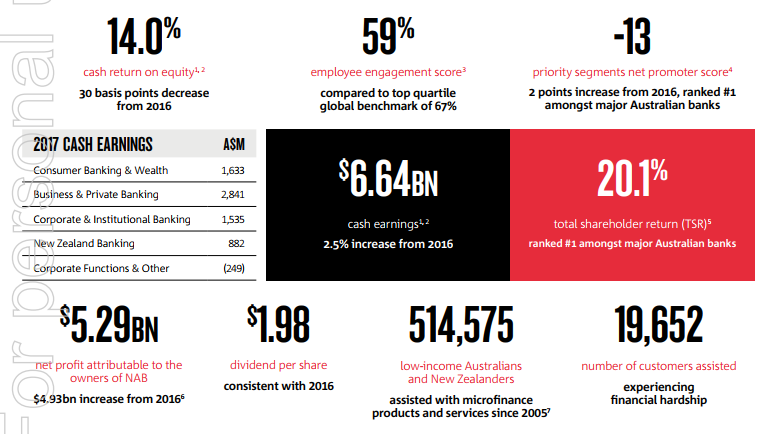 NAB performance snapshot in 2017 (Source: Company reports)
NAB has planned an estimated $1.5 billion increase in investment over the next three years and has a key focus to drive a major uplift in innovation and capabilities in the Group's leading Australian SME franchise. Cumulative cost savings, NAB is currently targeting at greater than $1 billion by 30th September 2020, as the bank is significantly simplifying and automating processes, which reduces procurement and third party costs, and gets closer to its customers with a flatter organizational structure. Moreover, increased revenue from higher customer retention and targeted market share gains and reduced operational and regulatory risks from a simplified, more responsive and resilient technology environment. Furthermore, NAB is reshaping its workforce to enable it to deliver for its customers and by 30 September 2020 expects to create up to 2,000 new jobs while about 6,000 roles will be impacted as the Group further automates and simplifies its business. This will result in a net reduction in staff currently targeted at approximately 4,000 by 30 September 2020, which is expected to give rise to a restructuring provision of $0.5-0.8 billion in the first half of the FY 18.
NAB stock has a solid dividend yield of 6.72% and we give a "Buy" on the stock at the current price of $29.62

Rio Tinto Limited
Rio Tinto Limited (ASX:RIO) has planned to expand its fleet of autonomous trucks operating in Australia's Pilbara iron-ore region, which is a part of a cost-cutting program across its operations. Therefore, RIO has signed deals with Komatsu Ltd and Caterpillar Inc to retrofit 48 trucks with Autonomous Haulage System (AHS) technology. The deals are due by the end of 2019.
After completion of the deal, more than 130 of Rio's Pilbara fleet of almost 400 trucks would be autonomous. On average, last year, each of its autonomous haul trucks operated an additional 1000 hours and at 15 percent lower load and haul unit cost than conventional vehicles. Moreover, RIO is planning future additions to the autonomous fleet in the Pilbara, which will help deliver the share of $5 billion of additional free cash flow for the company by 2021.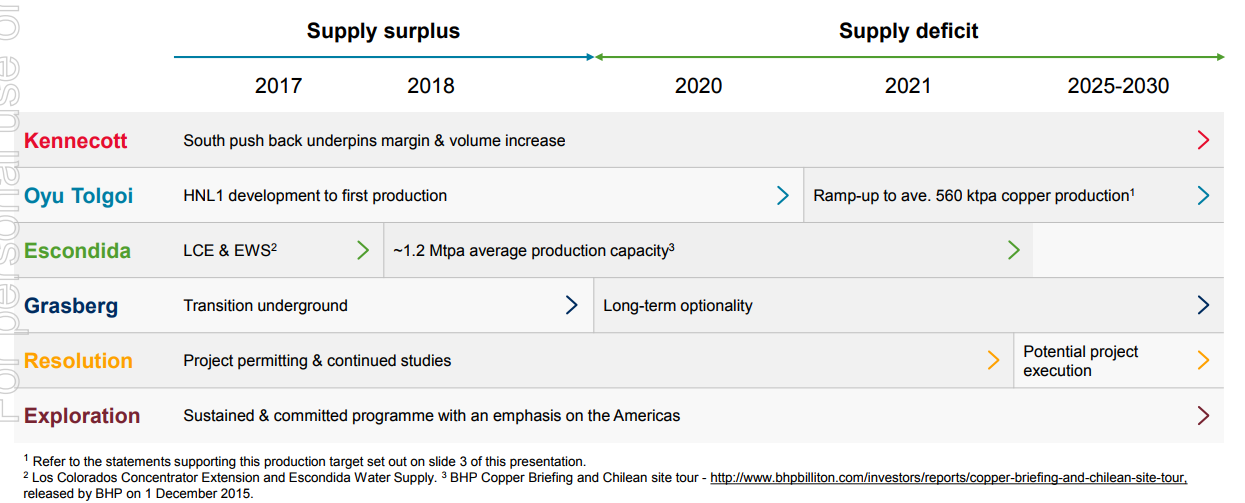 Long term options (Source: Company reports)
Additionally, in 2018, RIO is expecting 510-610 kt mined copper, 225-265 kt refined copper
and 17-20 Mcts diamonds. RIO has recently completed $1.5 billion share buyback.
RIO stock posted a 14.16% rise in the last three months and has a 3.85% dividend yield. We are bullish on RIO for 2018, Therefore we give a 'BUY' Recommendation at $77.85
Santos Ltd
Santos Ltd(ASX:STO) started the first part of its seismic acquisition program and has acquired over 1,000km of 2D seismic as part of fulfilling the Southern Amadeus Stage 2 farm out obligation of 1,300km. This is done to mature the Dukas and Mahler drill targets as they are prospective for natural gas and helium and also to gather data for the Rossini lead. The second part of the seismic acquisition program would consist of the remaining seismic to be acquired to bring the total program to 1,300km and the acquisition program is planned to be completed by the end of March 2017.
After finishing seismic works in accordance with the farmout requirements, STO would have the right to retain an increase in its participating interest from 25% to 40% for EPs 82, 105 and 112 (with EP 106 no longer applying due to voluntary relinquishment). STO stock rose over 35.91% in the last three months (as of January 3rd, 2018; Source: Google finance) while we are positive on the stock for this year. We give a "BUY" at $5.45
Beach Energy Ltd
Beach Energy Ltd (ASX: BPT)has been delivering positive drilling results and as on October the group have discovered new gas at Lowry-1, that validates the phase 1 expansion of the Middleton facility from 25 MMscfd to 40 MMscfd. The success of gas drilling at Crawford-1 has confirmed extension of the Brownlow Field and there is an expectation of reserve additions. The third Cooper Basin JV drilling rig has commenced with success at the Namur-5 gas appraisal well. BPT stock gained 123.23% in the last six months.
Moreover, BPT has entered into binding agreements with Toyota Tsusho Corporation and related parties to acquire its interests in the Otway Gas Project and BassGas Project. BPT will acquire Toyota Tsusho's 5% stake in OGP and 11.25% stake in BassGas Project for cash consideration, which will be funded from Beach's existing cash reserves. The deal is expected to be completed in early 2018 with an effective date of 1 January 2017 for the OGP interest and 1 July 2017 for the BassGas interests.

BPT stock solid rewards for shareholders in 2017 (Source: Google finance)
We believe investors could consider adding the stock to their portfolio this year. Hence we give a BUY at $1.33
Disclaimer
Veye Pty Ltd(ABN 58 623 120 865), holds (AFSL No. 523157 ). All information provided by Veye Pty Ltd through its website, reports, and newsletters is general financial product advice only and should not be considered a personal recommendation to buy or sell any asset or security. Before acting on the advice, you should consider whether it's appropriate to you, in light of your objectives, financial situation, or needs. You should look at the Product Disclosure Statement or other offer document associated with the security or product before making a decision on acquiring the security or product. You can refer to our Terms & Conditions and Financial Services Guide for more information. Any recommendation contained herein may not be suitable for all investors as it does not take into account your personal financial needs or investment objectives. Although Veye takes the utmost care to ensure accuracy of the content and that the information is gathered and processed from reliable resources, we strongly recommend that you seek professional advice from your financial advisor or stockbroker before making any investment decision based on any of our recommendations. All the information we share represents our views on the date of publishing as stocks are subject to real time changes and therefore may change without notice. Please remember that investments can go up and down and past performance is not necessarily indicative of future returns. We request our readers not to interpret our reports as direct recommendations. To the extent permitted by law, Veye Pty Ltd excludes all liability for any loss or damage arising from the use of this website and any information published (including any indirect or consequential loss, any data loss, or data corruption) (as mentioned on the website www.veye.com.au), and confirms that the employees and/or associates of Veye Pty Ltd do not hold positions in any of the financial products covered on the website on the date of publishing this report. Veye Pty Ltd hereby limits its liability, to the extent permitted by law to the resupply of services.