Bank Of Queensland Ltd
Team Veye | 11 Sep 2018

ASX - BOQ
| Recommendation | Buy |
| --- | --- |
| Investment Duration | Long Term |
| sector | Banks |
Bank of Queensland Ltd (ASX:BOQ) is an Australia-based financial company. The Company's segments include Banking and Insurance. The Banking segment includes retail banking, commercial, personal, small business loans, equipment, debtor finance, treasury, savings and transaction accounts. The Insurance segment includes customer credit insurance, life insurance, accidental death insurance, funeral insurance and motor vehicle gap insurance. The Company's online banking services include Internet banking, mobile banking, BOQ property application, online applications and BOQ money. The Company's personal banking offering includes everyday banking, savings and investment, credit cards, personal loans, home loans, insurance, international services, investing, private bank and account switching among others. Its business banking includes transaction accounts, investment accounts, statutory trust accounts, investment trust accounts, business loans, cash flow finance and equipment finance. (Profile Source – Reuters.com).
From the Company Reports
On 31st May'18, the Bank of Queensland had announced that, subject to approval by the Court, settlement had been reached in relation to the class action initiated by Petersen Superannuation Fund Pty Limited on its own behalf and on behalf of certain customers who received advice from Sherwin Financial Planners Pty Ltd (now in liquidation) and who held and deposited funds into BOQ Money Market Accounts administered by DDH Graham Limited as a result of this advice (the Petersen Class Action). The settlement got approved by the Court on 30th May'18. The bank had further emphasized that the settlement will not have a material impact on BOQ's statutory profit for the 2018 financial year.
The Bank's chairman in his letter to shareholder's published on 17th May'18, highlighted that their niche segment strategy is starting to deliver despite an ever changing operating environment. We are now getting back to a steady rate of growth, with pleasing results especially in our Business bank.
The cash earnings after tax for the period increased 4% from 1H17 to $182 million, whilst cash basic earnings per share were 46.5 cents per share, an increase of two per cent from 1H17. Cash return on equity also showed positive momentum, increasing 10 basis points to 9.9%, whilst overall lending growth was $671 million in the half. Net interest margin increased one basis point from 2H17 to 1.97%, despite intensifying competition for lending and deposits. Other key drivers of the first half results included a 20 basis point increase in Bank's cash cost to income ratio to 47.6% and a decrease of $5 million or 19% in their loan impairment expense to $22m compared to the same period in 2017. The ordinary dividend was maintained at 38 cents per share.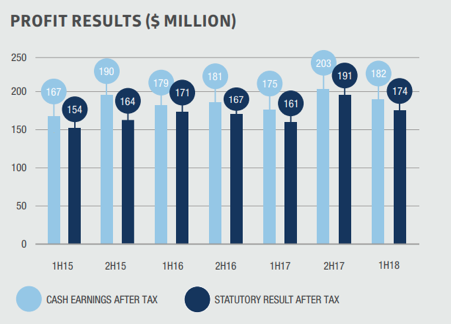 (Graphic Source – Company Reports)
BOQ's capital position remained very strong at 9.42%. Following the release of further information during the half from regulators, including the Basel Committee on Banking Supervision and the Australian Prudential Regulation Authority, their capital position compares favourably to many others in the industry. This provides them with the flexibility to consider other capital management options in the future that will further enhance shareholder returns.
The Bank's Retail banking & BOQ Business has been delivering on strategy. They have proactively sought to diversify their lending across the Group over the past five years and are seeing good results. Retail Banking has continued to diversify its channels of home loan origination with BOQ Broker and Virgin Money Australia contributing 40 per cent of Retail Banking's home loan settlements in 1H18. The BOQ Business division has continued to benefit from maturing its niche strategy, with asset growth of nearly $300 million in the half. This has been delivered across target segments that seek a relationship banking proposition and value industry expertise, including medical & dental, corporate healthcare & retirement living, hospitality & tourism and the agribusiness sectors.
On 17th Apr'18, the bank had released its H1 FY2018 results highlighting a strong performance. The key financial highlights were:
Cash earnings after tax of $182 million, up 4%
Statutory net profit after tax of $174 million, up 8%
Net Interest Margin up 1 bp on the prior half to 1.97%
Cost to Income ratio up 20 bps to 47.6%
Loan Impairment Expense down 19% to $22 million or 10 bps of gross loans
On the same day, the bank had also announced the sale of St Andrew's Insurance (St Andrew's) to Freedom Insurance Group Limited (ASX: FIG) (Freedom) for total consideration to BOQ of $65 million.
As part of its outlook, the bank highlighted that there were signs of improvement in the Queensland and Western Australian economies, whilst New South Wales and Victoria continue to perform well. In addition, although overall system growth for commercial lending has slowed, BOQ continues to find good opportunities in its target niche segments which tend to be in higher growth sectors of the economy. One of their core priorities for the remainder of 2018 included improving user experience in digital channels. In this regard, the Bank was actively upgrading its online platforms, partnering with Fintechs to deliver better solutions for their customers. They are beginning to move the Group's technology infrastructure into a modern cloud environment. This will further improve the customer experience, speed of their project delivery and reduce costs
Financials
The bank currently offers a very decent fully franked annual dividend yield of 6.85% against the sector average of only 1.99%. The next earnings date is 4th Oct'18. The bank's EPS stands at 91.31 and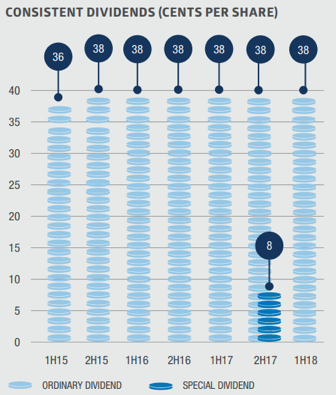 (Graphic Source – Company Reports)
EBITD margin at 48.33. The Bank's P/E ratio is 15.65 against the sector average of 19.70 and Debt-to-equity ratio is 249.74 against the sector average of 71.22. It has a market cap of 4.49bn and a Share Volume of 397.31m (Data Source – Reuters.com).
Veye's Take
The stock after slipping substantially during Jan-Apr'18 started recovering. It has already recovered a decent 15%. We reckon that the bank still has substantial upside potential at the current stage basis strong fundamentals and can be considered under-valued at the current price especially keeping in view that the stock has a 52-week price range of $9.6-13.51. We are Bullish on "Bank of Queensland Ltd" and give it a "Buy" at the current price of $11.40
Download
Disclaimer
Veye Pty Ltd (ABN 58 623 120 865) authorised representative (AR No. 001261006) of Vested Equities Pty Ltd which holds an Australian Financial Services License (AFSL No. 478987). Veye is authorised to share only generic financial views through its website, reports and newsletters without taking into consideration your personal financial needs or investment objectives. Although Veye takes the utmost care to ensure the accuracy of the content and that the information is gathered and processed from reliable resources, it is recommended you seek professional advice from your financial advisor or stockbroker before acting on any of our recommendations. Veye Pty Ltd advises it's users to pursue investing as a long-term goal. Stocks are subject to real time changes therefore all the information we share represents our views at the date of publishing and we request our readers not to interpret our reports as direct recommendations. Past performance is no indication of potential future performance. The securities and financial products we study and share information on in Veye Reports may have a product disclosure statement or other offer document associated with them. You should obtain a copy of these documents before making any decision about acquiring the security or product. You can refer to our Terms & Conditions and Financial Services Guide for more information. Veye Pty Ltd confirms that the employees and/or associates of Veye Pty Ltd do not hold positions in any of the financial products covered on the website on the date of publishing this report (as mentioned on the website www.veye.com.au).