Humm group limited, expanding its global reach
Team Veye | 25 Jan 2021

ASX - HUM
Humm group limited (ASX: HUM)
humm announces proposed JV with neobank Douugh to enter the U.S.
humm Group Limited(ASX: HUM) on 1 December 2020 entered into a nonbinding Memorandum of Understanding with neobank Douugh (ASX: DOU)
Douugh (ASX: DOUN) is a purpose-led fintech and next-gen neobank, taking a proprietary artificial intelligence (AI)-first approach to disrupting the business model of banking, helping customers better manage their money and experience better financial health. It's developing a subscription-based financial wellness platform, which helps customers spend wisely, save more and build wealth via a smart bank account and MasterCard debit card. It has official launched the financial wellness app on 17 November 2020 after a successful 18-month beta trial.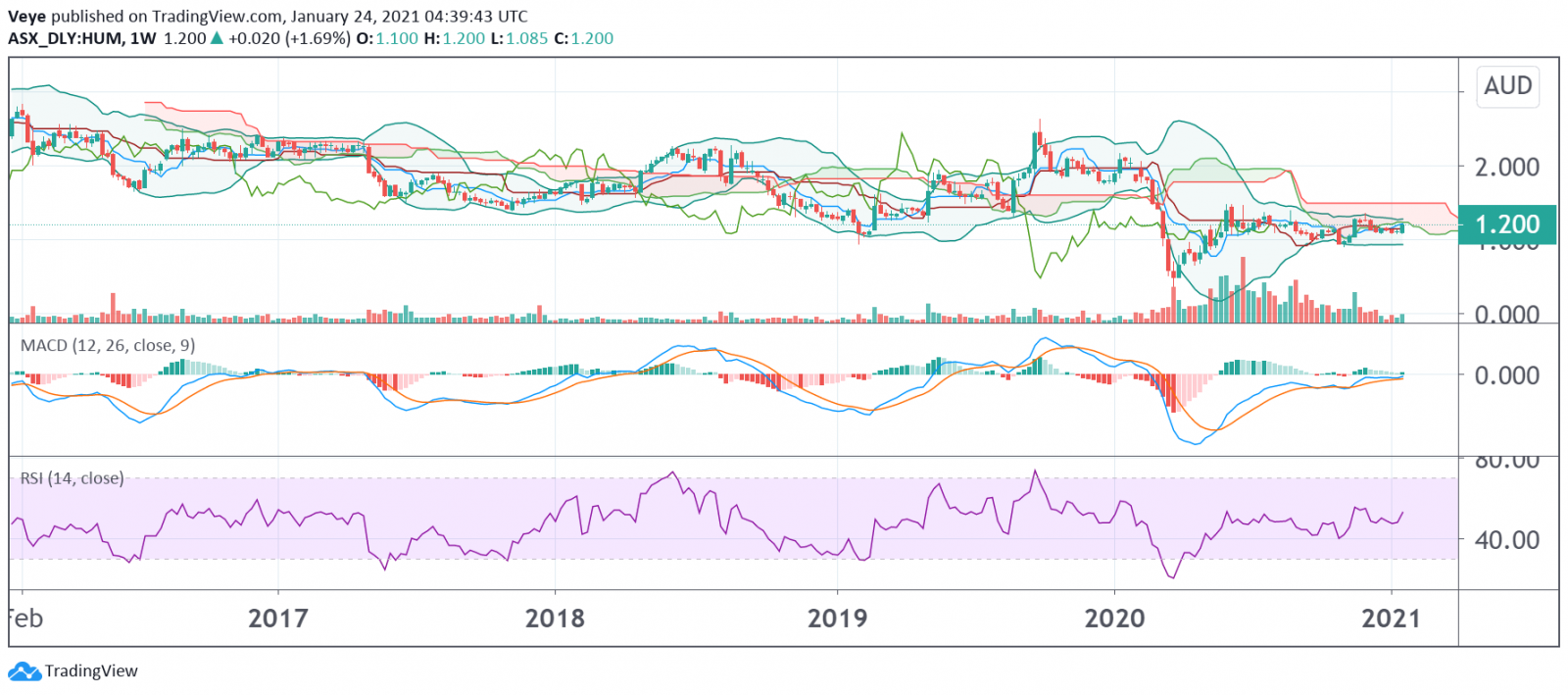 (Chart source: TradingView)
Under this proposed Joint Venture neobank Douugh will deliver a Douugh "powered by humm" branded buy now pay anywhere solution into the U.S. market in 1H22. Douugh will utilise humm's technology platform to manage a line of credit up to US$1,000 to eligible customers through a dedicated 'Credit Jar' on Douugh's platform and virtual Mastercard, allowing customers to meet urgent expenses and pay back over six weekly instalments.
The JV is conditional on a number of customary conditions to be met
Douugh will be responsible for Credit decisioning, AI synthesis. Customer service, marketing and technology and automated collection within 30 days.

Humm will be responsible for BNPL technology platform warehouse funding, credit scorecard variables and acceptance criteria, credit losses and collection above 30 days
This is the first proposed joint venture generated by humm ventures, an initiative to explore new and innovative ways to rapidly expand the global reach and distribution of humm's technology and capabilities. It comes two weeks after humm ventures announced its first strategic partnership with Mastercard to work with Mastercard's partners to drive adoption of bundll and support development.
Humm is also making a strategic investment of $2,500,000 as part of Douugh's capital raise to support the development and execution strategies. The investment is at an issue price of $0.22 per share.
flexigroup rebrands to humm
humm group limited (ASX: HUM) on 30 November 2020 announced that the Company's securities will trade under the Australian Securities Exchange code "HUM" from this day.
ASX code "HUM" takes effect from 30 November 2020

(Data Source – Company Reports)
Veye's Take
Humm being Australia's bigger buy now pay later company venturing with Douugh is all set to demonstrate the innovative and novel ways to take humm's world class technology and capabilities to expand its relevance and distribution. This venture has opened new avenues to take the technology on a global stage and changing the payment industry and thus providing a better customer experience across the globe. The stock has taken strong support at $1.100 at the middle band of the Bollinger. The wicks are rejecting the downside. The RSI pointing upside together with MACD positive crossover is indicative of its upside potential. Strong resistance is at $1.22, which when crossed can have the potential of a very significant upside. Veye maintains a "Hold" on "Humm Group Limited" at the current price of $1.200
Disclaimer
Veye Pty Ltd(ABN 58 623 120 865), holds (AFSL No. 523157 ). All information provided by Veye Pty Ltd through its website, reports, and newsletters is general financial product advice only and should not be considered a personal recommendation to buy or sell any asset or security. Before acting on the advice, you should consider whether it's appropriate to you, in light of your objectives, financial situation, or needs. You should look at the Product Disclosure Statement or other offer document associated with the security or product before making a decision on acquiring the security or product. You can refer to our Terms & Conditions and Financial Services Guide for more information. Any recommendation contained herein may not be suitable for all investors as it does not take into account your personal financial needs or investment objectives. Although Veye takes the utmost care to ensure accuracy of the content and that the information is gathered and processed from reliable resources, we strongly recommend that you seek professional advice from your financial advisor or stockbroker before making any investment decision based on any of our recommendations. All the information we share represents our views on the date of publishing as stocks are subject to real time changes and therefore may change without notice. Please remember that investments can go up and down and past performance is not necessarily indicative of future returns. We request our readers not to interpret our reports as direct recommendations. To the extent permitted by law, Veye Pty Ltd excludes all liability for any loss or damage arising from the use of this website and any information published (including any indirect or consequential loss, any data loss, or data corruption) (as mentioned on the website www.veye.com.au), and confirms that the employees and/or associates of Veye Pty Ltd do not hold positions in any of the financial products covered on the website on the date of publishing this report. Veye Pty Ltd hereby limits its liability, to the extent permitted by law to the resupply of services.