Did Codan Limited use its strategy to diversify their revenues?
Team Veye | 24 Feb 2020

ASX - CDA
Codan Limited (ASX: CDA)
Record First-Half Result
Australian-based technology company, Codan Limited (ASX: CDA) on 19 February 2020 announced statutory and underlying net profit after tax of $30.4 million for the half-year ended 31 December 2019.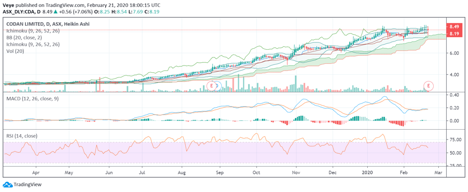 (Chart source: TradingView)
Highest half-year profit in the company's history
Net profit after tax of $30.4 million, up 37%
Interim dividend of 7.5 cents, fully franked
Earnings per share of 16.8 cents, up 37%
Communications sales increased 65% over the prior first half, with record sales being achieved by both Tactical Communications and LMR
Metal Detection sales in the first half exceeded $100 million for the first time, due to continuing strong demand for gold detectors
$51 million net cash position at 31 December 2019
The Board expects to continue its policy of paying shareholders in the order of 50% of our full-year profits as dividends, and shareholders will continue to be rewarded for the strong performance of the company. (Data Source – Company Reports)
Veye's Take
The results for the first half have been outstanding across the business, with both Codan Communications and Minelab achieving record first-half results. Codan's strong performance was driven by the continued strength of gold detector sales in Africa across multiple products, coupled with several major contracts delivered in the Communications business. The company's strategy to diversify its revenues and broaden its addressable markets is continuing to deliver results. Codan continues to heavily invest in its businesses. The group estimates engineering investment will exceed $30 million this financial year, which will ensure that their products remain leading-edge, allowing them to further broaden their markets and drive future growth in the business. Codan had faced some minor retracements. It is likely to consolidate in this area before gaining the potential to move further up. "Buy" was given to "Codan Limited" at the price of $4.03 on1August 2019. It has already grown by more than 110% in less than seven months until now. Veye maintains a "Hold" recommendation on "Codan Limited" at the current price of $8.49
Disclaimer
Veye Pty Ltd (ABN 58 623 120 865) authorised representative (AR No. 001261006) of Global Merces Funds Management Ltd holds Australian Financial Services License (AFSL No. 460883). Veye is authorised to share only generic financial views through its website, reports and newsletters without keeping into consideration your personal financial needs or investment objectives. Although Veye takes utmost care about the accuracy of the content and ensure that the information is gathered and processed through reliable resources but it is recommended for you to seek professional advice from your financial advisor or stockbroker before acting on any of our content or taking a final decision on your investments. Veye Pty Ltd advises it's users to pursue investing as a long-term goal. Stocks are subject to real time changes therefore all the information we share represents our views at the date of publishing and we request our readers not to interpret our reports as direct recommendations. Future Performance of any Security/Financial Product cannot be assured basis its past performance. The securities and financial products we study and share information on in Veye Reports may have a product disclosure statement or other offer document associated with them. You should obtain a copy of these before making any decision about acquiring the security or product. You can refer to our Terms & Conditions and Financial Services Guide as per your convenience. Veye Pty Ltd confirms that the employees and/or associates of Veye Pty Ltd do not hold positions in any of the financial products covered on the website on the date of publishing this report (mentioned on the website).