Does Macmahon Holdings Limited have a robust balance sheet?
Team Veye | 24 Feb 2020

ASX - MAH
Macmahon Holdings Limited (ASX: MAH)
GBF receives a letter of intent for further work with Silver Lake Resources
Macmahon Holdings Limited (ASX: MAH) ('Macmahon' or 'the Company') on 18 February 2020 advised that its recently acquired underground contracting business, GBF Group ('GBF'), had received a conditional letter of intent from Silver Lake Resources (ASX: SLR) ('Silver Lake') for further work at the Mount Monger gold operations in the Kalgoorlie region of Western Australia.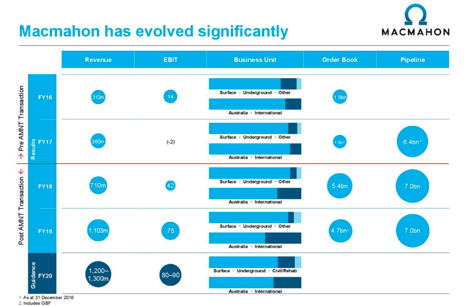 (Graphic Source – Company Reports)
GBF has been operating at Mount Monger since 2014, and currently provides mining services to the Daisy Complex, Cock-eyed Bob and Maxwell's mines which form part of this operation. Under the new letter of intent, GBF's tenure at these sites will be extended for three years from 1 March 2020, and GBF will also develop Silver Lake's new Santa mine which is due to commence in March 2020. GBF estimates the value of the new work with Silver Lake will add approximately $200 million to its order book.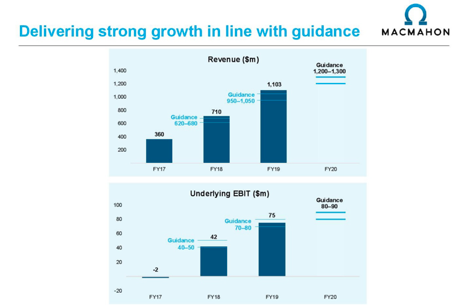 (Graphic Source – Company Reports)
Silver Lake and GBF will now negotiate the formal mining services agreement, with finalisation expected in March. (Data Source – Company Reports)
Veye's Take
The letter of intent from Silver Lake will continue and expand on GBF's successful track record at the Mount Monger projects. The new work is an important milestone in their strategy to further expand in the underground market and demonstrates the value in their GBF acquisition. Macmahon has a strong operating cash flow of $126m for FY19 underpinning its robust financial position. The company's balance sheet supported the reinstatement of sustainable dividends after 7 years. The stock has crossed an important resistance at $0.28 and could be preparing to move another leg up. Veye recommends a "Buy" on "Macmahon Holdings Limited" at the current price of $0.29
Disclaimer
Veye Pty Ltd (ABN 58 623 120 865) authorised representative (AR No. 001261006) of Global Merces Funds Management Ltd holds Australian Financial Services License (AFSL No. 460883). Veye is authorised to share only generic financial views through its website, reports and newsletters without keeping into consideration your personal financial needs or investment objectives. Although Veye takes utmost care about the accuracy of the content and ensure that the information is gathered and processed through reliable resources but it is recommended for you to seek professional advice from your financial advisor or stockbroker before acting on any of our content or taking a final decision on your investments. Veye Pty Ltd advises it's users to pursue investing as a long-term goal. Stocks are subject to real time changes therefore all the information we share represents our views at the date of publishing and we request our readers not to interpret our reports as direct recommendations. Future Performance of any Security/Financial Product cannot be assured basis its past performance. The securities and financial products we study and share information on in Veye Reports may have a product disclosure statement or other offer document associated with them. You should obtain a copy of these before making any decision about acquiring the security or product. You can refer to our Terms & Conditions and Financial Services Guide as per your convenience. Veye Pty Ltd confirms that the employees and/or associates of Veye Pty Ltd do not hold positions in any of the financial products covered on the website on the date of publishing this report (mentioned on the website).