Will Mach7 Technologies Limited position itself to take advantage of growth opportunities?
Team Veye | 24 Feb 2020

ASX - M7T
Mach7 Technologies Limited (ASX: M7T)
Mach7 Delivers Positive EBITDA and NPAT, Revenue growth +158%
Mach7 Announces Strong FY20 First Half Results
Mach7 Technologies Limited ("Mach7" or the "Company") (ASX: M7T), a company specialising in innovative medical imaging data management solutions for healthcare providers, on 21 February 2020 released its half-year results for the period ended 31 December 2019 ("H1 FY20").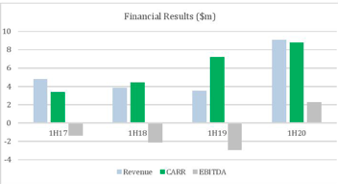 (Graphic Source – Company Reports)
H1 FY20 Highlights:
EBITDA $2.3 million, growth of $5.2 million or 176%;
NPAT $0.7 million, growth of $5.1 million or 115%;
Revenue $9.1 million, growth of $5.6 million or 158%;
Business well capitalised with $23.3 million cash, debt-free and positioned for future growth;
Strong growth is driven by new customer contracts and continued growth in CARR
Growing sales pipeline including higher value RFP opportunities
Profitability Milestones Hit – Reflecting Scalability
Mach7 has delivered its first positive EBITDA and NPAT half-year result. EBITDA grew 176% to $2.3 million while NPAT grew 115% to $0.7 million. These profitability milestones highlight an inflection point for the size and scale of the business with revenue growth of 158% and expense growth of only 10% (before share-based payments, depreciation & amortisation, and finance costs).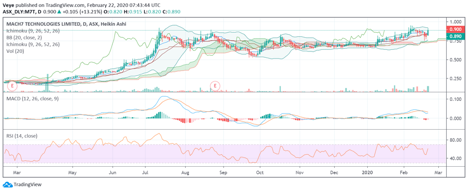 (Chart source: TradingView)
This follows Mach7's first positive free cash flow result in H1 FY20, announced in January. (Data Source – Company Reports)
Veye's Take
Mach7 has delivered its first positive EBITDA and NPAT half-year result. EBITDA grew 176% to $2.3 million while NPAT grew 115% to $0.7 million. Mach7's sales pipeline is continuing its steady growth, with 46 new opportunities, valued at >$40 million, added to the pipeline in H1 FY20. For the 10-months ending 31 December, the Company reported $2.4 million of positive free cash flows and is still free cash flow positive. The financial position of the Company is strong with $23.3 million in cash, debt-free and therefore well-positioned to take advantage of organic and acquisitive growth opportunities. As earlier reviewed, the stock had formed a double bottom on the chart and it had the potential to touch $0.79 very soon and could attempt to cross $0.87 also. The stock simply validated our viewpoint. The stock was possibly under the cup and handle formation with increased volume. If it is able to form it completely then a significant upside potential could be there. The stock has already grown by more than 172% in just nine months since Veye had recommended a "buy" on "Mach7 Technologies" on 23 May 2019 at the price of $0.33. We give a "Hold" recommendation on "Mach7 Technologies Limited" at the current price of $0.90
Disclaimer
Veye Pty Ltd (ABN 58 623 120 865) authorised representative (AR No. 001261006) of Global Merces Funds Management Ltd holds Australian Financial Services License (AFSL No. 460883). Veye is authorised to share only generic financial views through its website, reports and newsletters without keeping into consideration your personal financial needs or investment objectives. Although Veye takes utmost care about the accuracy of the content and ensure that the information is gathered and processed through reliable resources but it is recommended for you to seek professional advice from your financial advisor or stockbroker before acting on any of our content or taking a final decision on your investments. Veye Pty Ltd advises it's users to pursue investing as a long-term goal. Stocks are subject to real time changes therefore all the information we share represents our views at the date of publishing and we request our readers not to interpret our reports as direct recommendations. Future Performance of any Security/Financial Product cannot be assured basis its past performance. The securities and financial products we study and share information on in Veye Reports may have a product disclosure statement or other offer document associated with them. You should obtain a copy of these before making any decision about acquiring the security or product. You can refer to our Terms & Conditions and Financial Services Guide as per your convenience. Veye Pty Ltd confirms that the employees and/or associates of Veye Pty Ltd do not hold positions in any of the financial products covered on the website on the date of publishing this report (mentioned on the website).