Will Zoono Group Limited's strategy lead to further evolution of its business model?
Team Veye | 21 Feb 2020

ASX - ZNO
Zoono Group Limited (ASX: ZNO)
Appointment of Exclusive Distributor for Singapore
Zoono Group Limited (Company) (ASX: ZNO) on 18th February 2020 announced that it had appointed Linco Investments Pte Ltd, a facilities management/distribution company, as the Company's exclusive distributor for Singapore.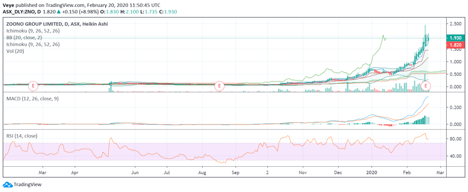 (Chart source: TradingView)
NZ$3.5m in sales revenues to date in the current quarter
Further to the release of the December half-year financial report of Zoono Group Limited, in response to the unprecedented level of interest in the Company and its products, the Company on 19 February 2020 advised that revenues (unaudited) for the current quarter (7 weeks only) were NZ$3.5 million (which compared extremely favourably to revenues of NZ$1.715M for the whole of the first half of FY20).
In addition to the above, the Company is also able to report:
Its available cash resources have increased to in excess of NZ$4.0 million (an increase of over NZ$1.0m from 31 December 2019);
Online sales are now averaging NZ$30,000 to NZ$50,000 per day;
The percentage gross margin on sales is also increasing in line with the growth in sales revenues; and
Work is progressing on a number of further significant potential transactions for the distribution and/or supply of the Company's products as interest in these products and the Company's technology spreads around the globe.
Zoono & Eagle Execute Distribution Agreement for China
Zoono Group Limited on 20th February 2020 announced that it had entered into a Distribution Agreement with Eagle Health Holdings Limited (ASX: EHH) ("Eagle") for the distribution of Zoono and Eagle co-branded products and offline retail sales in China. (Data Source – Company Reports)
Veye's Take
Zoono's Global sales, both off-line and on-line, continue to increase as brand awareness grows and the Company's new distribution strategy starts to produce results. The major focus of the Company in the current financial year is the further evolution of its business model, particularly in regard to adding to its network of distributors in key countries and/or regions and building on-line sales. The ultimate objective is to increase repeat sales at better margins from longer-term direct contracts with larger and multinational customers. This was achieved in the half-year with an improvement in the gross profit margin (52% compared to 41% for the previous half-year). Several new contracts are also currently under negotiation. The improved gross profit was due to higher operating revenues and margins from bulk product sales (compared to the sale of finished product sales). We had said that the stock had very strong support around $1.20. Holding this, it had the potential to go up to $1.60 also. It has comfortably crossed this hinderance. A day before, it had an inside bar indicating another good move. It is now in consolidation phase and holding $1.65 the stock can have very good potential. "Buy" was given to "Zoono Group Limited" at the price of $0.815 on 31 January 2020 thus giving more than 123% return in less than a month till now. Veye maintains a "Hold" on "Zoono Group Limited" at the current price of $1.82
Disclaimer
Veye Pty Ltd (ABN 58 623 120 865) authorised representative (AR No. 001261006) of Global Merces Funds Management Ltd holds Australian Financial Services License (AFSL No. 460883). Veye is authorised to share only generic financial views through its website, reports and newsletters without keeping into consideration your personal financial needs or investment objectives. Although Veye takes utmost care about the accuracy of the content and ensure that the information is gathered and processed through reliable resources but it is recommended for you to seek professional advice from your financial advisor or stockbroker before acting on any of our content or taking a final decision on your investments. Veye Pty Ltd advises it's users to pursue investing as a long-term goal. Stocks are subject to real time changes therefore all the information we share represents our views at the date of publishing and we request our readers not to interpret our reports as direct recommendations. Future Performance of any Security/Financial Product cannot be assured basis its past performance. The securities and financial products we study and share information on in Veye Reports may have a product disclosure statement or other offer document associated with them. You should obtain a copy of these before making any decision about acquiring the security or product. You can refer to our Terms & Conditions and Financial Services Guide as per your convenience. Veye Pty Ltd confirms that the employees and/or associates of Veye Pty Ltd do not hold positions in any of the financial products covered on the website on the date of publishing this report (mentioned on the website).