Can Bank of Queensland bounce back?
Team Veye | 18 Dec 2019

ASX - BOQ
Bank of Queensland Limited (ASX: BOQ)
BOQ Share Purchase Plan Opens
The Share Purchase Plan (SPP) announced by Bank of Queensland Limited (BOQ) on 25 November 2019, opened on 3 December 2019. Eligible BOQ shareholders now could apply for up to $30,000 of new fully paid ordinary shares (Shares) without incurring brokerage or transaction costs. The SPP will also be offered to eligible custodians to participate in the SPP on behalf of certain eligible beneficiaries.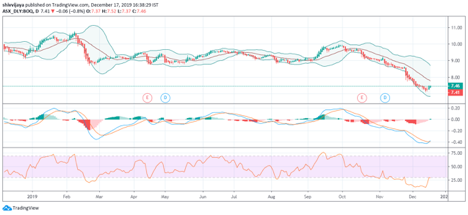 (Chart source: TradingView)
The SPP follows the institutional placement (Placement) completed on 26 November 2019. BOQ is targeting to raise approximately $25 million under the SPP and depending on demand may scale back applications or issue a higher amount, at its absolute discretion
Participation in the SPP is optional and is open to shareholders at the record date (being 7.00 pm (Sydney time) on Friday, 22 November 2019), and whose address on the BOQ Share register is in Australia or New Zealand (Eligible Shareholder)
The issue price per Share will be the lesser of:
$7.78 per Share, being the issue price paid by institutional investors under the Placement; and the VWAP of Shares traded on the ASX during the five trading days up to, and including, the SPP closing date (expected to be 20 December 2019) less a 2% discount, rounded down to the nearest cent. (Data Source – Company Reports)
Veye's Take
BOQ had received strong support from investors. The funds raised will further increase BOQ's buffer above APRA's benchmark and provide BOQ with additional capacity to support the implementation of its strategic transformation. Insiders have bought more shares than they have sold in the past 3 months. BOQ's dividend is in the top 25% of dividend payers in the Australian market. As earlier reviewed the stock started correcting since early October 2019 and landed at base support. As per the chart, the stock may rebound from this area. We maintain a "Buy" recommendation on "Bank of Queensland Ltd" at the current price of $7.41
Disclaimer
Veye Pty Ltd (ABN 58 623 120 865) authorised representative (AR No. 001261006) of Vested Equities Pty Ltd which holds an Australian Financial Services License (AFSL No. 478987). Veye is authorised to share only generic financial views through its website, reports and newsletters without taking into consideration your personal financial needs or investment objectives. Although Veye takes the utmost care to ensure the accuracy of the content and that the information is gathered and processed from reliable resources, it is recommended you seek professional advice from your financial advisor or stockbroker before acting on any of our recommendations. Veye Pty Ltd advises it's users to pursue investing as a long-term goal. Stocks are subject to real time changes therefore all the information we share represents our views at the date of publishing and we request our readers not to interpret our reports as direct recommendations. Past performance is no indication of potential future performance. The securities and financial products we study and share information on in Veye Reports may have a product disclosure statement or other offer document associated with them. You should obtain a copy of these documents before making any decision about acquiring the security or product. You can refer to our Terms & Conditions and Financial Services Guide for more information. Veye Pty Ltd confirms that the employees and/or associates of Veye Pty Ltd do not hold positions in any of the financial products covered on the website on the date of publishing this report (as mentioned on the website www.veye.com.au).