Qantas Airways Ltd
Team Veye | 17 May 2018

ASX - QAN, QAN
| Recommendation | Buy |
| --- | --- |
| sector | Airlines,Airlines |
Profile
Qantas Airways Ltd (ASX:QAN) is an Australia-based company, which operates domestic and international airline. The Company is engaged in the operation of international and domestic air transportation services, the provision of freight services and the operation of a frequent flyer loyalty program. Its segments include Qantas Domestic, Qantas International, Jetstar Group, Qantas Freight, Qantas Loyalty and Corporate. The Qantas Domestic, Qantas International and Jetstar Group segments include passenger flying businesses. The Qantas Freight segment is engaged in the air cargo and express freight business. The Qantas Loyalty segment is engaged in the customer loyalty recognition programs. Its main business is the transportation of customers using two airline brands, which include Qantas and Jetstar. It also operates subsidiary businesses, including other airlines and businesses in specialist markets, such as Q Catering. Its airline brands operate regional, domestic and international services. (Profile Source – Reuters.com)
From the Company Reports
On 22nd Feb'18, the company declared its H1 FY2018 results highlighting a strong performance across key metrics. The company delivered record first half profit, invested in aircraft and training. The key highlights were as follows:
• Underlying Profit Before Tax: $976 million (up 15%)
• Record results for Qantas Domestic, Jetstar Group and Qantas Loyalty
• Statutory Profit Before Tax: $857 million (up 20%)
• Statutory Earnings Per Share: 34.0c
• Return On Invested Capital: 20.9%
• Record level of operating cash flow; net free cash flow of $772 million (up 2.7 times)
• Up to $500 million shareholder return: 7 cents per share ordinary un-franked dividend, plus an on-market buyback of up to $378 million
• Delivery of 18 Airbus A321 NEO LRs confirmed for Jetstar from existing order of 99 aircraft
• Upgrade of Sydney International Business Lounge and QantasLink turboprop cabins
• Plans for Qantas Group Pilot Academy announced.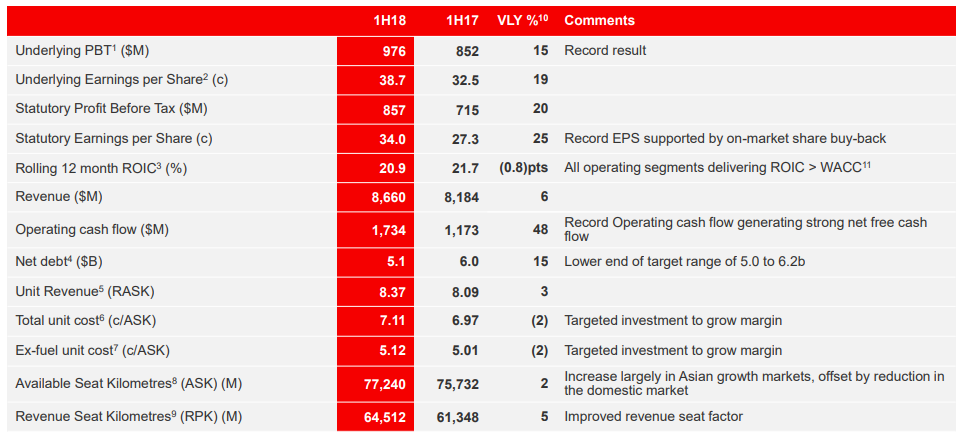 (Chart Source – Company Reports)
The Qantas Group delivered its highest-ever first half Underlying Profit before Tax of $976 million for the six months ending 31st Dec'17. The result surpassed the previous record of $921 million achieved in the first half of FY16 and comes despite recent increases in fuel costs and continued international capacity growth. Both Underlying and Statutory profit before tax were significantly higher (15% and 20% respectively) than the first half of FY17. All targets of the Group's financial framework were met, enabling Qantas to keep rewarding shareholders, investing for customers and positioning for the future.
Under Domestic Operations, Qantas and Jetstar's domestic flying operations combined posted their highest ever first half Underlying EBIT of $652 million. The result was driven by ongoing capacity discipline and growing margins of both airlines, achieved through product and network superiority. Qantas Domestic posted Underlying EBIT of $447 million, up 20 per cent. Unit revenue was up 8.6 % and load factor increased by 1.4 points to 78.7 %. The resources sector posted modest revenue growth for the first time since 2014. Jetstar's domestic operations achieved a 7 % increase in unit revenue.
And under its International Operations, Qantas and Jetstar's international operations performed well in the face of higher fuel costs and increased competitor capacity. Underlying EBIT for Qantas International was lower, down 5.5 % to $222 million, however unit revenue increased slightly by 0.3 %. A capacity increase together with load factor increasing by 3.1 percentage points to 84.4 % lifted overall revenue by 7.3 %. Jetstar's international operations generated strong earnings, helped by the operating costs of the 787-8 but impacted by around $10 million from the Bali ash cloud disruption. Jetstar's portfolio of airlines in Asia was profitable, driven by Japan and Singapore operations as well as a significant improvement in Jetstar Pacific's performance as excess market capacity in Vietnam moderated.
The company further stated that all targets of the Group's financial framework were met or exceeded in the half. Net debt continued to fall and remain towards the bottom of the range, at $5.1 billion. Sixty % of the Group fleet is unencumbered, including two new 787-9s purchased with cash. Debt maturity has been improved by an eight year, $350 million corporate debt program and short term liquidity remained strong at $2.8 billion. Rolling 12-month return on invested capital was 20.9 %, with all operating segments delivering ROIC above their weighted average cost of capital. Net capital expenditure guidance for FY18 and FY19 is unchanged at a combined $3.0 billion, net of asset sales. Operating cash flow increased by 48 % to reach a record $1.7 billion, providing excess capital for reinvestment and for returns to shareholders.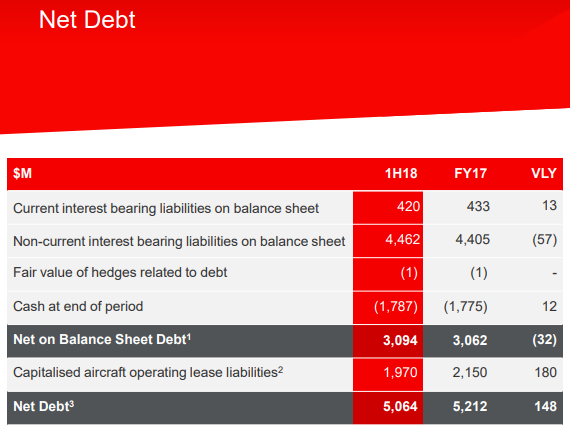 (Chart Source – Company Reports)
As part of its Outlook, the company was very positive and stated that the Group expected healthy consumer demand growth consistent with an improved global outlook. The Group's current operating expectations were: - Total Qantas Group capacity is expected to increase by ~1% in H2 FY2018 .
• Group Domestic capacity expected to decrease by ~1%. Continued growth in unit revenue is expected.
• Group International capacity expected to increase by ~2-3% compared with competitor capacity growth of ~5% . Unit revenue growth is expected to continue.
- FY18 fuel cost expected to be no more than $3.24b.
- FY18 transformation benefits expected to be greater than $400million.
- Capital expenditure net of asset sales expected to be $3.0b for FY18 and FY19 combined.
On 23rd Mar'18, ACCC re-authorised alliance between Qantas and Emirates after imposing a condition of authorisation to address continuing competition concerns on the Sydney – Christchurch route.
The alliance would need to report to the ACCC on seats and passengers flown, fares and route profitability on routes between Australia and New Zealand. The condition allows ACCC to set a minimum level of capacity on the Sydney to Christchurch route at any time, if needed.
On 2nd May'18, the Group released a trading update announcing that its Q3 Revenue was up 7.5 % to $4.25 billion versus prior corresponding period. The group is expecting a full year record Underlying Profit Before Tax of between $1.55 billion and $1.60 billion. The Group has ordered six additional Dreamliners for Qantas International and accelerated retirement of remaining 747s by end-2020. The Qantas Group has announced a strong performance in its trading update for the third quarter of FY18 and confirmed it is on track for a record Underlying Profit before Tax full year result.
Financials
The Group currently offers a minute un-franked Annual Dividend Yield of 2.21% against the sector average of only 1.61%. The company's EPS stands at 63.71 and EBITD margin is 19.07. The P/E ratio is 11.80 against the sector average of 24.80. The stock has a market cap of 188.79m and a Share Volume of 1.3bn. The Debt-to-Equity ratio is 130.93 against the sector average of 95.03. The stock price of the company has grown an exceptional 30% YTD 2018 and touched an all-time high of $6.43 on 7th May'18 and still seems to have a lot of upside potential. (Data Source – Reuters.com).
Veye's Take
We are Bullish on "Qantas Airways Ltd" and give it a "Buy" at the current price of $6.34
Download
Disclaimer
Veye Pty Ltd(ABN 58 623 120 865), holds (AFSL No. 523157 ). All information provided by Veye Pty Ltd through its website, reports, and newsletters is general financial product advice only and should not be considered a personal recommendation to buy or sell any asset or security. Before acting on the advice, you should consider whether it's appropriate to you, in light of your objectives, financial situation, or needs. You should look at the Product Disclosure Statement or other offer document associated with the security or product before making a decision on acquiring the security or product. You can refer to our Terms & Conditions and Financial Services Guide for more information. Any recommendation contained herein may not be suitable for all investors as it does not take into account your personal financial needs or investment objectives. Although Veye takes the utmost care to ensure accuracy of the content and that the information is gathered and processed from reliable resources, we strongly recommend that you seek professional advice from your financial advisor or stockbroker before making any investment decision based on any of our recommendations. All the information we share represents our views on the date of publishing as stocks are subject to real time changes and therefore may change without notice. Please remember that investments can go up and down and past performance is not necessarily indicative of future returns. We request our readers not to interpret our reports as direct recommendations. To the extent permitted by law, Veye Pty Ltd excludes all liability for any loss or damage arising from the use of this website and any information published (including any indirect or consequential loss, any data loss, or data corruption) (as mentioned on the website www.veye.com.au), and confirms that the employees and/or associates of Veye Pty Ltd do not hold positions in any of the financial products covered on the website on the date of publishing this report. Veye Pty Ltd hereby limits its liability, to the extent permitted by law to the resupply of services.