2 ASX stocks that may recover and fetch higher returns
Team Veye | 30 May 2018

ASX - BOQ, FMG
Fortescue Metals Group Ltd (ASX: FMG)
On 22nd Feb'18, the company announced launching a US$1.4 billion debt repayment offer for the 2022 9.75% Senior Secured Notes via a tender. The Company offered to purchase up to US$1.4 billion in aggregate principal via a tender. Note holders could tender their 2022 Senior Secured Notes at US$1.1025 per US$1.00 of principal
On 2nd Mar'18, the company announced successful completion of US$500m High Yield Bond Offering. It priced an offering of US$500 million of 5.125% Senior Unsecured Notes due 2023. The offering was expected to settle on or about 15th Mar'18, subject to customary closing conditions. The key highlights of the offering were:
• It refinanced a further US$500 million of the 9.75% US$2,160 million Senior Secured Notes
• Significantly lowered the Fortescue's cost of capital
• And, the Terms and conditions were reflective of Fortescue's improved credit profile
The company amended its iron ore price guidance on 27th Mar'18, to reflect an expected contractual realisation of approximately 65% of the average benchmark Platts 62 CFR index for the financial year ending 30th Jun'18. The FY18 first half revenue realisation was 68% of the average Platts 62 CFR Index. Full year revenue realisation remains subject to movements in the Platts 62 CFR index price and associated mark to market adjustments.
The company released its March 2018 Quarterly Production Report on 24th Apr'18 reporting iron ore shipments of 38.7 million tonnes (mt) and cash production costs (C1) of US$13.14 per wet metric tonne (wmt). Year to date C1 costs are US$12.43/wmt, equivalent to a C1 cost of US$11.90/wmt after normalising for an assumed exchange rate of US$0.75 and fuel costs of US$53 per barrel (WTI). The adjusted cash balance at 31st Mar'18 was US$0.6 billion. Net debt at 31st Mar'18 reduced to US$3.1 billion from US$3.3 billion at 31st Dec'17.
On 25th May'18, the company issued a voluntary redemption notice of US$160 million in relation to the remaining balance of the 9.75% Senior Secured Notes due in 2022 (the "Notes"), which will be repaid from operating cash flows on 28th Jun'18.
And, the most recent announcement came from the company on 28th May'18 stating that the board has approved the development of the Eliwana mine and rail project, located in Western Australia's Pilbara region at an estimated capital cost of US$1.275 billion. The stock price of the company is volatile and has slipped 17% since mid-Feb'18 but we reckon that it surely has an upside potential to recover and head north (Data Source – Company Reports).
Veye's Take
We maintain a "Hold" on "Fortescue Metals Group Ltd" at the current price of $4.59
Bank of Queensland (ASX: BOQ)
The Bank announced the sale of St Andrew's Insurance (St Andrew's) to Freedom Insurance Group Limited (ASX: FIG) (Freedom) for total consideration to BOQ of $65 million on 17th Apr'18. The transaction comprised of two components. The first was a ~$35 million quota reinsurance arrangement between the life insurance subsidiary of St Andrew's and a major global reinsurer to be effective immediately before completion. The remaining cash proceeds of ~$30 million were to be paid by Freedom as consideration for the acquisition of the share capital of St Andrew's. In addition, BOQ entered into an exclusive three year distribution agreement (with an additional two year option) with Freedom for the provision of life insurance products to BOQ's customers.
The Bank also released its H1 FY2018 results on 17th Apr'18 highlighting positive performance across key metrics. The key financial highlights were:
· Cash earnings after tax of $182 million, up 4%
· Statutory net profit after tax of $174 million, up 8%
· Net Interest Margin up 1 bp on the prior half to 1.97%
· Cost to Income ratio up 20 bps to 47.6%
· Loan Impairment Expense down 19% to $22 million or 10 bps of gross loans
· Common Equity Tier 1 (CET1) capital ratio up 3 bps on the prior half to 9.42%
· Basic earnings per share up 2% to 46.5 cents
· Return on average ordinary equity up 10 bps to 9.9%
· Fully franked interim dividend maintained at 38 cents per ordinary share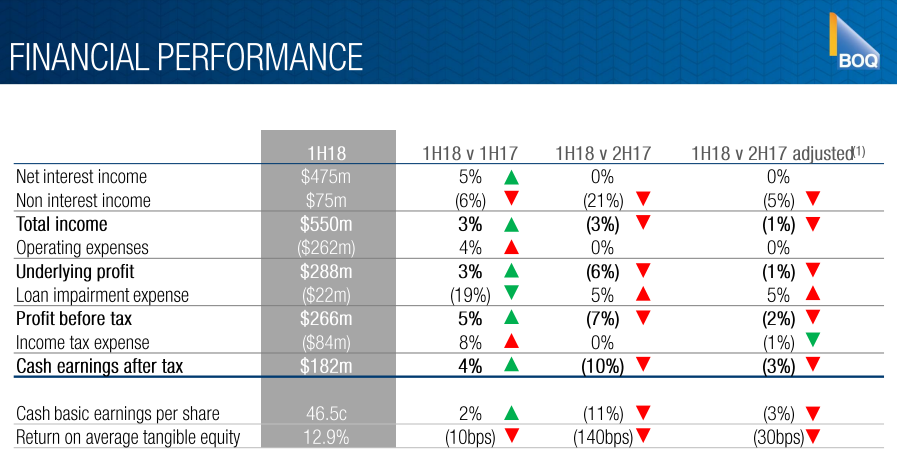 (Table Source – Company Reports)
As part of its outlook, the bank stated that the industry was facing a number of headwinds (low credit growth, low interest rates, regulatory uncertainty, increasing consumer expectations and increased scrutiny of conduct and culture), but BOQ remains well placed. The stock price of the Bank has slipped around 6% during the last 2 months but we reckon that the bank has the upside potential to recover and register positive growth (Data Source – Company Reports).
Veye's Take
We maintain a "Hold" on "Bank of Queensland" at the current price of $10.40
Disclaimer
Veye Pty Ltd (ABN 58 623 120 865) authorised representative (AR No. 001261006) of Vested Equities Pty Ltd which holds an Australian Financial Services License (AFSL No. 478987). Veye is authorised to share only generic financial views through its website, reports and newsletters without taking into consideration your personal financial needs or investment objectives. Although Veye takes the utmost care to ensure the accuracy of the content and that the information is gathered and processed from reliable resources, it is recommended you seek professional advice from your financial advisor or stockbroker before acting on any of our recommendations. Veye Pty Ltd advises it's users to pursue investing as a long-term goal. Stocks are subject to real time changes therefore all the information we share represents our views at the date of publishing and we request our readers not to interpret our reports as direct recommendations. Past performance is no indication of potential future performance. The securities and financial products we study and share information on in Veye Reports may have a product disclosure statement or other offer document associated with them. You should obtain a copy of these documents before making any decision about acquiring the security or product. You can refer to our Terms & Conditions and Financial Services Guide for more information. Veye Pty Ltd confirms that the employees and/or associates of Veye Pty Ltd do not hold positions in any of the financial products covered on the website on the date of publishing this report (as mentioned on the website www.veye.com.au).