Is there substantial upside left to Qantas Airways Limited?
Team Veye | 16 Oct 2019

ASX - QAN
Qantas Airways Limited (ASX: QAN)
Update on the Level of Foreign Relevant Interest in Qantas Shares
Qantas Airways Limited (ASX: QAN) on 14 October 2019 announced that, on the basis of its most recent foreign ownership reconciliation, Qantas is again in a position to qualify for inclusion in the MSCI Global Investable Market Indexes ("MSCI Index"). As of 03 September 2019, foreign persons potentially held relevant interests of 35.78% in the issued share capital of Qantas. On that basis, under section 2.3.5.2 of the Methodology, August 2019 for the MSCI Index, Qantas meets the MSCI requirement of a foreign room of at least 25%.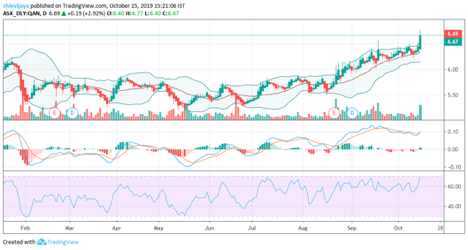 (Chart source: TradingView)
In accordance with ASX Listing Rule 3.19.2, market participants should be aware that:
Under the Qantas Constitution, within 10 days of becoming registered, foreign purchasers are required to notify Qantas of their acquisition of relevant interests in Qantas shares.
It is the order of receipt of validly completed FONs that determines the priority for entry, upon reconciliation to a registered shareholding, to the Qantas Foreign Sub-Register and failure to submit a FON may mean failure to secure priority;
Qantas investigates foreign share purchases and, upon reconciliation of the relevant FONs to a registered shareholding, enters the purchases on the Qantas Foreign Sub-Register. (Data Source – Company Reports)
Veye's Take
Qantas Airways will begin testing the longest direct flights in the world soon, as the Australian airline aims to use technological innovation in a bid to woo premium passengers. Singapore-based Jetstar Asia has entered into an agreement with Qantas Freight to manage the low-cost carrier's freight capacity beginning Nov. 20. Qantas has agreed to manage Jetstar Asia's cargo capacity across 23 stations in 13 markets. Jetstar operates 18 A320 aircraft, carrying belly-hold cargo. The Australian-flag carrier holds a 49% stake in Jetstar Asia. The chart is indicating the further move up with moving averages cross over taking place. Veye maintains a "Hold" on "Qantas Airways Ltd" at the current price of $6.69
Disclaimer
Veye Pty Ltd(ABN 58 623 120 865), holds (AFSL No. 523157 ). All information provided by Veye Pty Ltd through its website, reports, and newsletters is general financial product advice only and should not be considered a personal recommendation to buy or sell any asset or security. Before acting on the advice, you should consider whether it's appropriate to you, in light of your objectives, financial situation, or needs. You should look at the Product Disclosure Statement or other offer document associated with the security or product before making a decision on acquiring the security or product. You can refer to our Terms & Conditions and Financial Services Guide for more information. Any recommendation contained herein may not be suitable for all investors as it does not take into account your personal financial needs or investment objectives. Although Veye takes the utmost care to ensure accuracy of the content and that the information is gathered and processed from reliable resources, we strongly recommend that you seek professional advice from your financial advisor or stockbroker before making any investment decision based on any of our recommendations. All the information we share represents our views on the date of publishing as stocks are subject to real time changes and therefore may change without notice. Please remember that investments can go up and down and past performance is not necessarily indicative of future returns. We request our readers not to interpret our reports as direct recommendations. To the extent permitted by law, Veye Pty Ltd excludes all liability for any loss or damage arising from the use of this website and any information published (including any indirect or consequential loss, any data loss, or data corruption) (as mentioned on the website www.veye.com.au), and confirms that the employees and/or associates of Veye Pty Ltd do not hold positions in any of the financial products covered on the website on the date of publishing this report. Veye Pty Ltd hereby limits its liability, to the extent permitted by law to the resupply of services.