Does Qantas Airways Limited's performance also translate into strong shareholder returns?
Team Veye | 26 Sep 2019

ASX - QAN
Qantas Airways Limited (ASX: QAN)
Qantas Airways Limited (ASX: QAN) on 22 August 2019 presented its FY19 Results
The Qantas Group has achieved an Underlying Profit Before Tax of $1.30 billion and a Statutory Profit Before Tax of $1.27 billion for the Financial Year 2019.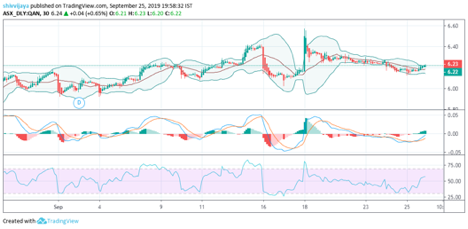 (Chart Source: TradingView)
Qantas Group Posts Record Revenue, Strong Profit in FY19
Underlying Profit Before Tax: $1.30 billion (down 17%)
Statutory Profit Before Tax: $1.27 billion (down 6%)
Record revenue for the Group
Statutory Earnings Per Share: 54.6c (flat on last year)
Return On Invested Capital: 18.4%
Net free cash flow: $1,244 million
Shareholder return of 13 cents per share fully franked dividend, plus an off-market buyback of up to 79.7 million shares
$1,250 staff travel bonus for 25,000 non-executive employees, worth $32 million
Direct New York and London to Sydney research flights for Project Sunrise announced.
While the Underlying result was 17 percent lower compared with the Group's record profit in FY18, it was impacted by a $614 million increase in fuel costs from higher oil prices and a further $154 million of the foreign exchange impacts on non-fuel net expenditure.
The result was also impacted by a $92 million non-cash expense on provisions for items including employee leave entitlements – part of an accounting requirement that means this charge increases when interest rates fall.
All key parts of the Group's portfolio remain strongly profitable, generating significant cash flow that allows for ongoing investment as well as shareholder returns. (Data Source – Company Reports).
Veye's Take
Qantas Group delivered an Underlying Profit Before Tax of $1.3 billion and a Statutory Profit Before Tax of $1.27 billion for Financial Year 2019. It's a strong result considering some of the headwinds that the Group managed in the year. Higher oil prices put their fuel bill up by over $600 million. A lower Australian Dollar impacted them by more than $150 million. And Qantas had a $92 million non-cash expense on provisions for items including employee leave provisions. Its revenue was at record levels. Qantas Group's debt is below the bottom of their target range, and statutory earnings per share have remained at the record levels that were achieved last year. The Group's performance also translates into strong shareholder returns. As per the chart, the stock is likely to continue moving upwards. Veye maintains a "Hold" on "Qantas Airways Ltd" at the current price of $6.24
Disclaimer
Veye Pty Ltd(ABN 58 623 120 865), holds (AFSL No. 523157 ). All information provided by Veye Pty Ltd through its website, reports, and newsletters is general financial product advice only and should not be considered a personal recommendation to buy or sell any asset or security. Before acting on the advice, you should consider whether it's appropriate to you, in light of your objectives, financial situation, or needs. You should look at the Product Disclosure Statement or other offer document associated with the security or product before making a decision on acquiring the security or product. You can refer to our Terms & Conditions and Financial Services Guide for more information. Any recommendation contained herein may not be suitable for all investors as it does not take into account your personal financial needs or investment objectives. Although Veye takes the utmost care to ensure accuracy of the content and that the information is gathered and processed from reliable resources, we strongly recommend that you seek professional advice from your financial advisor or stockbroker before making any investment decision based on any of our recommendations. All the information we share represents our views on the date of publishing as stocks are subject to real time changes and therefore may change without notice. Please remember that investments can go up and down and past performance is not necessarily indicative of future returns. We request our readers not to interpret our reports as direct recommendations. To the extent permitted by law, Veye Pty Ltd excludes all liability for any loss or damage arising from the use of this website and any information published (including any indirect or consequential loss, any data loss, or data corruption) (as mentioned on the website www.veye.com.au), and confirms that the employees and/or associates of Veye Pty Ltd do not hold positions in any of the financial products covered on the website on the date of publishing this report. Veye Pty Ltd hereby limits its liability, to the extent permitted by law to the resupply of services.