Abacus Property Group
Team Veye | 10 Dec 2020

ASX - ABP
| Recommendation | Buy |
| --- | --- |
| sector | Services |
Abacus Property Group (ASX: ABP) is a diversified real estate investment trust with an investment portfolio concentrated in the office and self-storage sectors. It invests capital in real estate opportunities to deliver long term returns and maximize security holder value. The Company's principal activities include the investment in self-storage and commercial (office, retail and industrial) properties to derive rental and management and other fee income; and participation in property developments including lending to derive interest income and development profits. The Company's segments include property investment and property development. The property Investments segment is responsible for the investment in and ownership of self-storage and commercial properties. Property Development provides secured lending and is also responsible for the Company's investment in joint venture development projects, which includes revenue from debt and equity investments in joint ventures (Profile source: Reuters)
From the Company Reports
Abacus successfully completes Institutional Entitlement Offer
Abacus Property Group ("Abacus") (ASX: ABP) on 9 December 2020 announced the successful completion of the institutional component ("Institutional Entitlement Offer") of its fully underwritten 1 for 4.8 accelerated non-renounceable pro-rata entitlement offer ("Entitlement Offer") that was announced on Tuesday, 8 December 2020.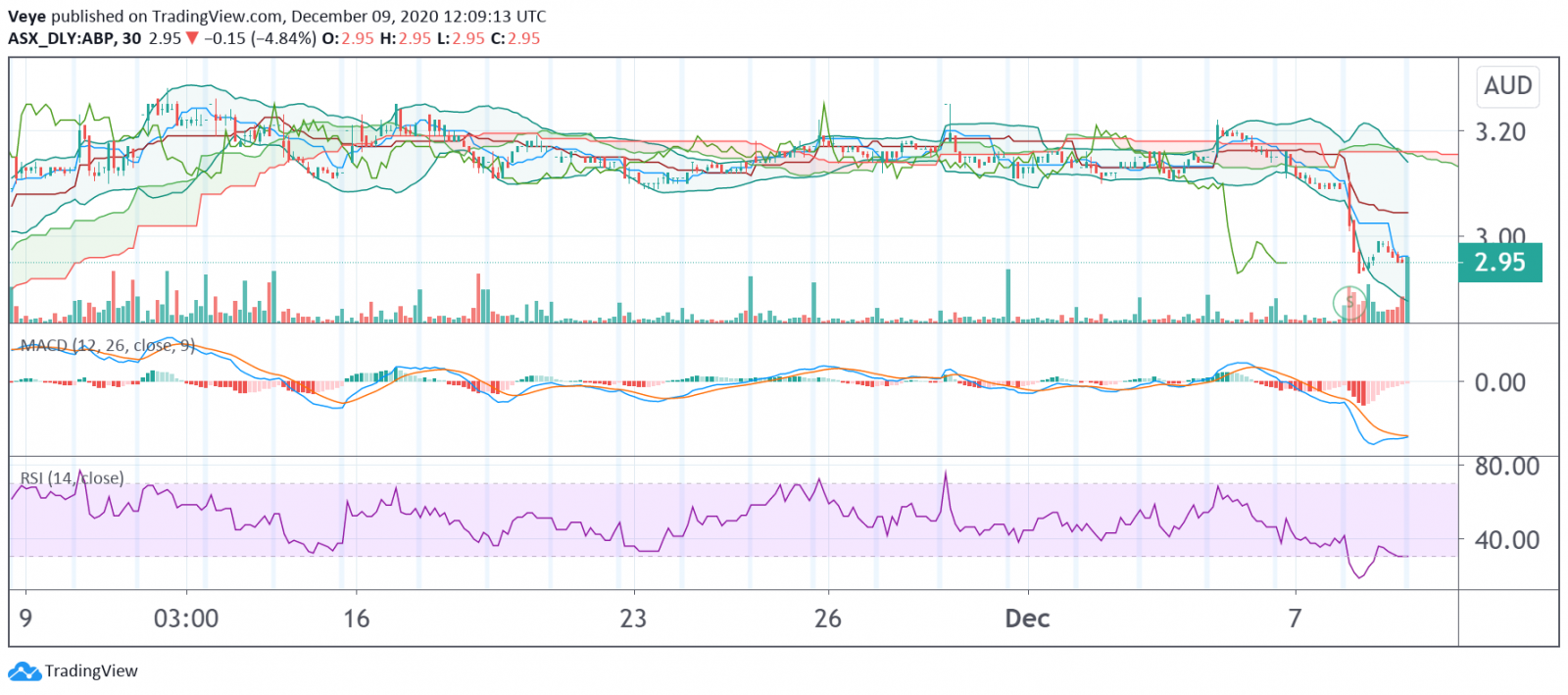 (Chart source: TradingView)
Institutional Entitlement Offer
The Institutional Entitlement Offer raised approximately $356 million at the offer price of $2.90 per Abacus security ("Issue Price") and was well supported by institutional security holders with a take-up of approximately 97% by eligible institutional security holders, including Abacus' largest security holder, Calculator Australia Pty Ltd as trustee for the Calculator Australia Trust.
Strong demand was received from Abacus' existing institutional security holders and new institutional investors for the institutional shortfall, comprising entitlements of existing eligible institutional security holders that were not taken up under the Institutional Entitlement Offer and the entitlements of ineligible security holders.
Abacus business update and launch of a fully underwritten $402 million equity raising for growth capital
Abacus Property Group (ASX: ABP) on 8 December 2020 released its business update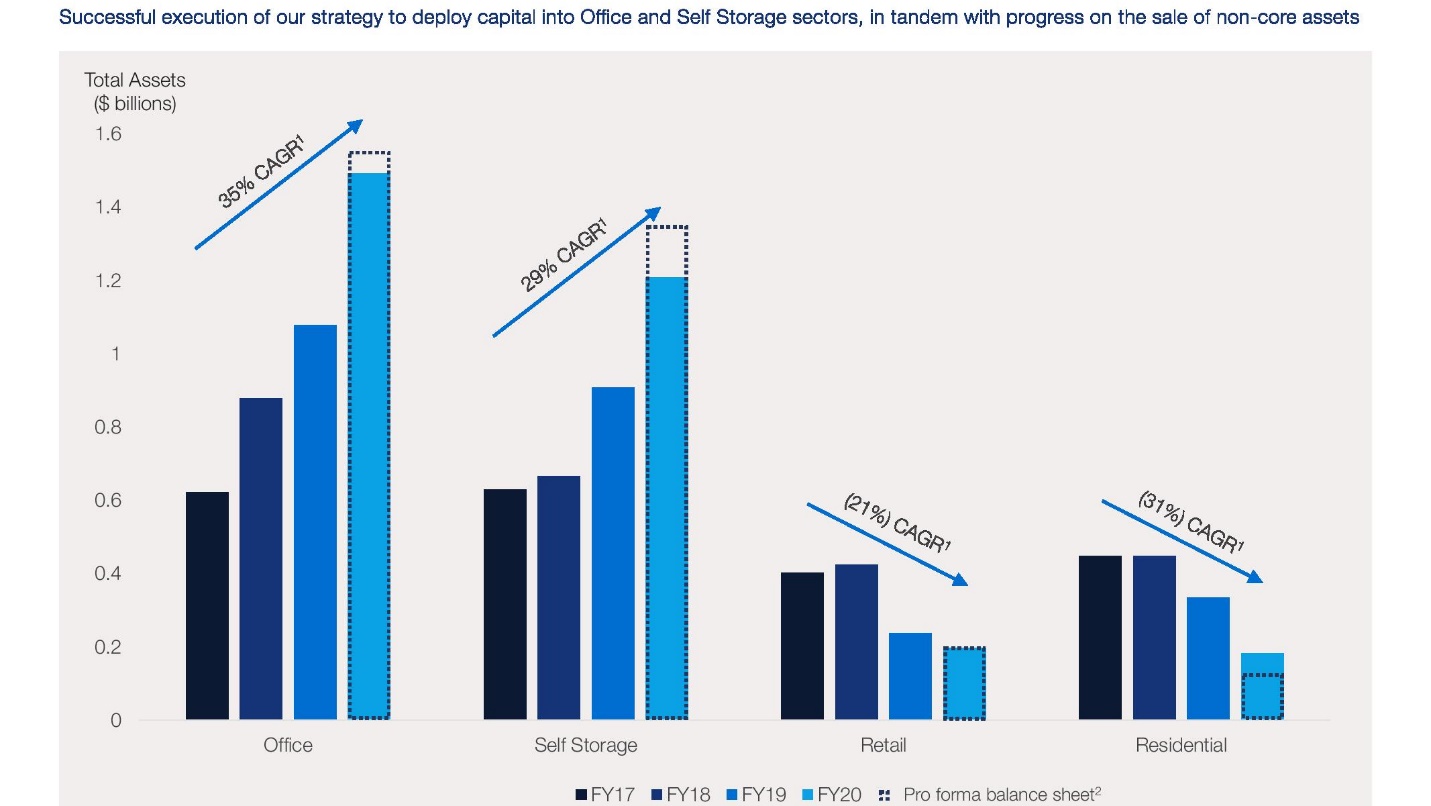 (Graphic Source – Company Reports)
Abacus Property Group ("Abacus") (ASX: ABP) has executed on its stated strategy to become a strong asset backed, annuity style, investment house and has delivered a pleasing Q1 FY21 trading performance across its portfolio

$926 million of capital has been deployed into acquisitions in the key sectors of Office and Self Storage post FY19 including $205 million in FY21 to date
$155 million deployed into Self Storage acquisitions

$50 million deployed into Office acquisitions
In addition, Abacus has a currently identified acquisition pipeline ("Pipeline") comprising approximately $160 million of assets under active consideration of which approximately $130 million is in advanced negotiations with due diligence well progressed
100% ownership of Storage King is expected to increase the velocity of acquisitions and provide a significant competitive advantage
Abacus is undertaking a fully underwritten1 1-for-4.8 accelerated non-renounceable pro rata entitlement offer to raise approximately $402 million ("Entitlement Offer") in order to repay debt and increase acquisition capacity2 for continued growth over the medium term

Pro forma expected gearing of 17.5% and acquisition capacity2 of $911 million post completion of the Entitlement Offer

Expected HY21 Funds from Operations ("FFO") of 8.9 - 9.1 cents per security and expected FY21 interim distribution of 8.5 cents per security (to which new securities issued under the Entitlement Offer will be entitled)

(Graphic Source – Company Reports)
Abacus acquires balance of Storage King operating platform and other Self Storage assets
Abacus Property Group on 2 November 2020 announced that it had an unconditional agreement to acquire the remaining 75% interest in the Self Storage operating platform, Storage King.
Self Storage is a key sector for Abacus having made its first investment in 2005 and since then actively accumulating a portfolio of 81 locations, with a valuation of over $1 billion as of 30 June 2020, all exclusively managed by Storage King.
Until August 2018 when Abacus acquired a 25% interest, Storage King had been a privately owned and operated management platform for Self Storage real estate, managing stores located in Australia and New Zealand, on behalf of Abacus and a number of other third party owners. As of 30 June 2020 Storage King licensed and managed over 170 locations with over 50,000 customers and a total of 380 full and part time team members.
Following the acquisition of its initial 25% interest in the Storage King business and the successful evolution of this close working relationship, Abacus is acquiring the balance of Storage King.
In addition to this transaction, Abacus also announced that it had exchanged contracts for the acquisition of four Self Storage properties for $45.1 million (excluding transaction costs) with a settlement of three existing facilities anticipated by calendar year end.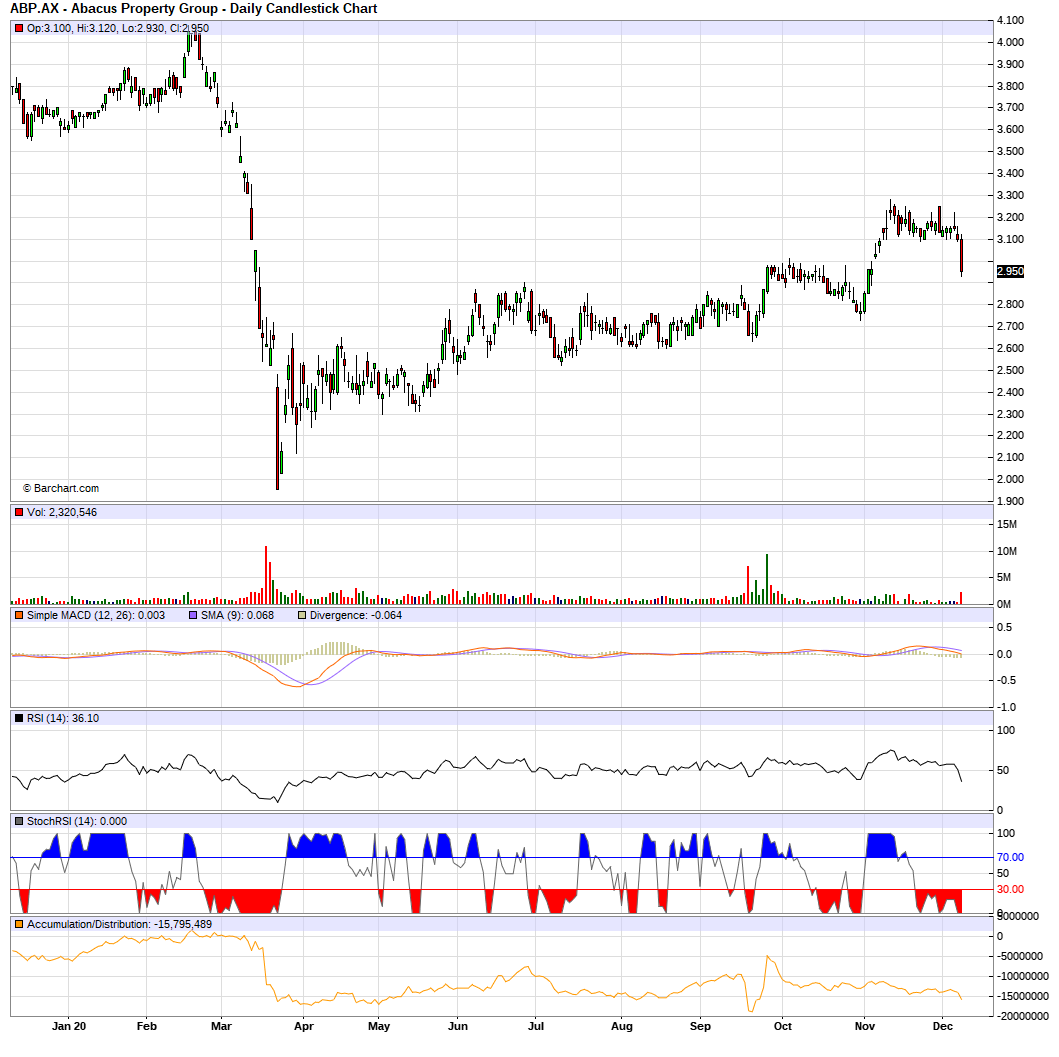 (Chart source: Barchart)
The acquisition comprises:
three purpose-built Self Storage facilities located in the Significant Urban Areas of Melbourne and Wollongong, and (Sourced off-market)

one development site located in the Significant Urban Area of Sydney to accommodate a future multilevel facility. (Sourced on market)
In addition to these transactions exchanged in FY21, Abacus has settled on a further six properties (located in the Significant Urban Areas of Perth, Sydney and Melbourne) totaling $45.2m that were exchanged but not settled as of 30 June 2020.
Market Risk Analysis
In Victoria, occupancy remains flat due to the continued COVID-19 lockdowns. Fourth-quarter rent collection was impacted by COVID-19. Office Portfolio had 90% of Q4 rents collected and $1.7 million of waivers provided. Asset acquisitions made during FY20 have altered the composition of its Portfolio, with occupancy declining by 30 basis points to 91.5%.
Technical Analysis
The stock after having a steep fall is trying to recover from it. On the monthly chart, RSI appears to be reversing, and MACD on verge of crossing over. The chart is indicating accumulation which can accelerate the reversal. It can have the potential to recover very strongly in the short to medium term.
Abacus Property Group (ASX: ABP)

Stock Overview

Sector

Real Estate

Risk

Medium

Market Cap

$2.06 billion

Share Volume

665.71million

EPS (FY)

$0.132

PE RATIO

23.5

Yearly Dividend Yield

5.97%

Target Price (s)

T1 $ 3.50 T2 $4.05

Stop Loss

$2.55

Recommendation

Buy

52 weeks High

$4.080

52 weeks Low

$1.955

Managing Director

Mr Steven Sewell

Director(s)
Mr Trent Alston
Mr Mark Haberlin
Veye's Take
Abacus is now a strong asset-backed, annuity style investment house. The Company had made significant progress in growing its portfolio in the key sectors of Office and Self Storage, with $926 million of capital deployed post FY19 including $205 million in FY21 to date. Both sectors continue to present opportunities for growth. Trading conditions in its Self Storage portfolio have proved resilient. The Company's multi-pronged growth strategy including acquisition, development, expansion, and optimisation had delivered strong Q1 FY21 results, with occupancy of 89.7% and revenue per available square metre of $251, while rent collection remains high at 99%. In the Office portfolio, acquisitions and active asset management have supported resilient Q1 FY21 trading. During the first quarter over 28,000 sqm of leasing space was completed with positive spreads, driving an improved lease expiry profile. Office portfolio occupancy is 91.4% while rent collection was 91%. Post completion of the Entitlement Offer, Abacus expects FFO for HY21 to be 8.9 - 9.1 cents per security ($59 - $61 million) and expects the interim distribution to be 8.5 cents per security. The second half FY21 FFO is expected to be higher than the first half, benefitting from recent acquisitions. A robust development pipeline with 55,250 sqm identified to be delivered over the medium term is expected to enhance portfolio quality and increase income growth, with the expected development spend of approximately $80 million targeting a return on invested capital of 8.0%. Veye recommends a "Buy" on "Abacus Property Group" at the current price of $2.97
Download
Disclaimer
Veye Pty Ltd(ABN 58 623 120 865), holds (AFSL No. 523157 ). All information provided by Veye Pty Ltd through its website, reports, and newsletters is general financial product advice only and should not be considered a personal recommendation to buy or sell any asset or security. Before acting on the advice, you should consider whether it's appropriate to you, in light of your objectives, financial situation, or needs. You should look at the Product Disclosure Statement or other offer document associated with the security or product before making a decision on acquiring the security or product. You can refer to our Terms & Conditions and Financial Services Guide for more information. Any recommendation contained herein may not be suitable for all investors as it does not take into account your personal financial needs or investment objectives. Although Veye takes the utmost care to ensure accuracy of the content and that the information is gathered and processed from reliable resources, we strongly recommend that you seek professional advice from your financial advisor or stockbroker before making any investment decision based on any of our recommendations. All the information we share represents our views on the date of publishing as stocks are subject to real time changes and therefore may change without notice. Please remember that investments can go up and down and past performance is not necessarily indicative of future returns. We request our readers not to interpret our reports as direct recommendations. To the extent permitted by law, Veye Pty Ltd excludes all liability for any loss or damage arising from the use of this website and any information published (including any indirect or consequential loss, any data loss, or data corruption) (as mentioned on the website www.veye.com.au), and confirms that the employees and/or associates of Veye Pty Ltd do not hold positions in any of the financial products covered on the website on the date of publishing this report. Veye Pty Ltd hereby limits its liability, to the extent permitted by law to the resupply of services.