Qantas Airways Limited
Team Veye | 29 Sep 2020

ASX - QAN
| Recommendation | Buy |
| --- | --- |
| Investment Duration | Long Term |
| sector | Airlines |
Qantas Airways Limited (ASX: QAN) is an Australia-based company, which operates domestic and international airline. The Company is engaged in the operation of international and domestic air transportation services, the provision of freight services and the operation of a frequent flyer loyalty program. Its segments include Qantas Domestic, Qantas International, Jetstar Group, Qantas Loyalty and Corporate. The Qantas Domestic, Qantas International and Jetstar Group segments include passenger flying businesses. The Qantas Loyalty segment is engaged in customer loyalty recognition programs. Its main business is the transportation of customers using two airline brands, which include Qantas and Jetstar. Its airline brands operate regional, domestic and international services (Profile source: Reuters)
From the Company Reports
Qantas Confirms $500 million unsecured Bond Issue
Qantas Airways Limited (ASX: QAN) on 1 September 2020 confirmed a 10 year, $500 million unsecured bond issue as part of ongoing management of its debt maturity profile. Once settled, the proceeds will strengthen short term liquidity and then be used to pay $400 million in bonds due to expire in June 2021.
The coupon for the new bond, which was oversubscribed, is 5.25 percent – significantly lower than the 7.5 percent funding it replaces.
The Group continues to have no financial covenants on any of its debt
Qantas Group FY20 Financial Results – Navigating Exceptional Conditions
Qantas Airways Limited (ASX: QAN) on 20 August 2020, In what has been the most challenging period in its long history, reported a $124 million Underlying Profit Before Tax for the 12 months ended 30 June 2020, down 91 percent on the prior year.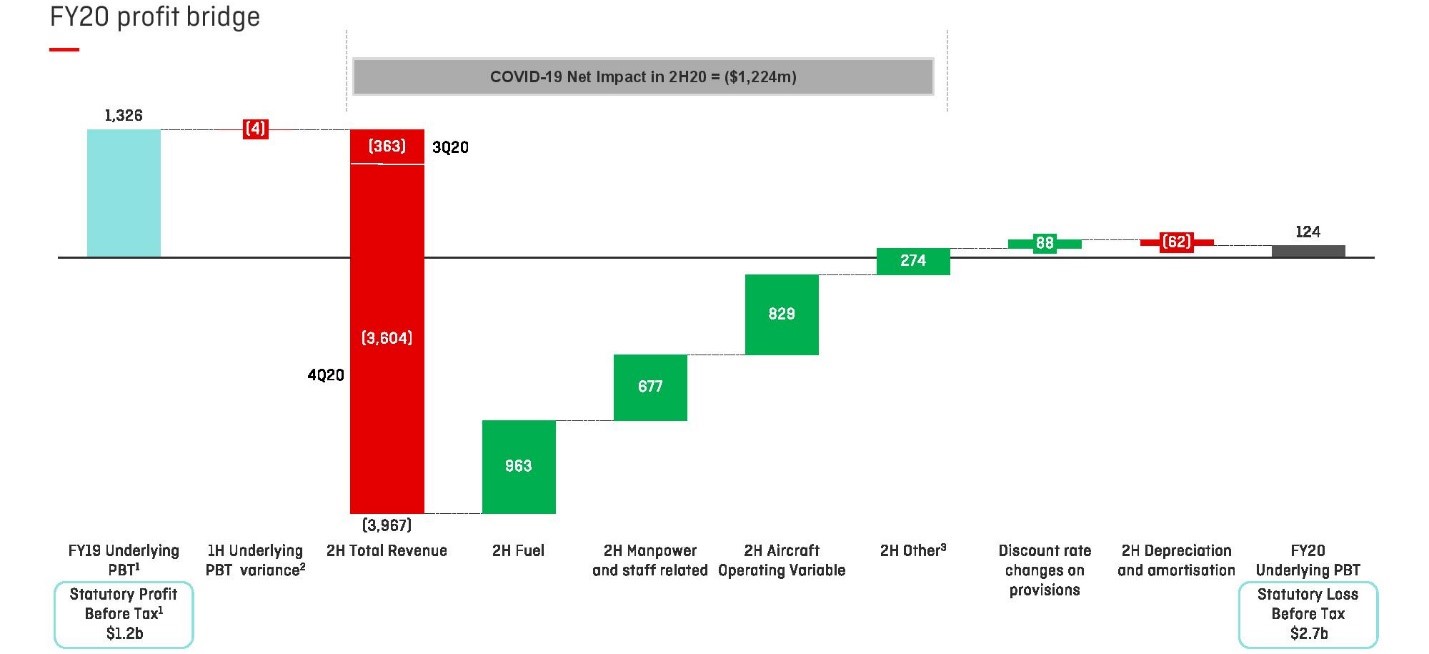 (Graphic Source – Company Reports)
Underlying Profit Before Tax: $124 million (down 91%)
Statutory Loss Before Tax: $2.7 billion (majority of which is non-cash, including aircraft write downs)
$4 billion revenue impact from COVID crisis in 2H20
Operating cash flow: $1.1 billion
Liquidity of $4.5 billion providing considerable buffer to manage uncertainty
Significant progress on initial steps of three-year recovery plan
This reflects a strong first half of the year ($771 million Underlying Profit Before Tax) followed by a near total collapse in travel demand and a $4 billion drop in revenue in the second half1 due to the COVID-19 crisis and associated border restrictions
Fast action to radically cut costs and place much of the flying business into a form of hibernation helped minimise the financial impact from this extraordinary sequence of events. From April to end of June, Group revenue fell 82 percent while cash costs were reduced by 75 percent, helping to limit the drop in Underlying Profit Before Tax in 2H20 to $1.2 billion.
At the statutory level, the Group reported a $2.7 billion Loss Before Tax –– due mostly to a $1.4 billion non-cash write down of assets including the A380 fleet and $642 million in one-off redundancy and other costs as part of restructuring the business for recovery.
Group Domestic
A very strong performance by Group Domestic in the first half more than offset the 50 percent drop in revenue in the second half caused by COVID-related restrictions. Qantas Domestic achieved EBIT of $173 million while Jetstar's domestic flying achieved EBIT of $112 million, including absorbing a $33 million impact of industrial action over the peak summer period.
Both Qantas and Jetstar demonstrated high levels of adaptability in responding to cascading domestic border restrictions – cutting costs and maximising limited revenue opportunities. This included launching new Qantas routes such as Sydney to Ballina and Orange, and redeploying A320s to meet resources sector demand in Western Australia.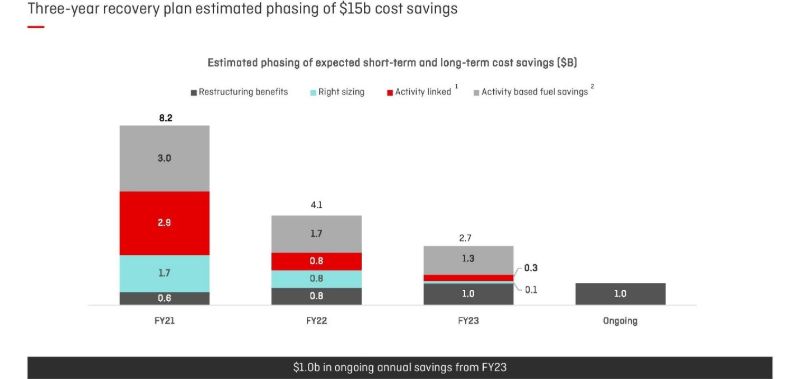 (Graphic Source – Company Reports)
A three-day Jetstar sale in June saw some 150,000 fares sold, reaching a record rate of 220 bookings per minute – demonstrating the latent demand for travel when borders do re-open.
As a result of the Group's main domestic competitor significantly reducing its fleet and closing its low-cost carrier, the Group expects its market share to naturally grow from around 60 percent to up to 70 percent as the market recovers.
Group International
Qantas International made a $56 million profit for the year, driven largely by a record performance by Qantas Freight and a huge increase in e-commerce.
The Group's regular scheduled international flights effectively ceased in April, replaced by over 100 services operated by Qantas on behalf of the Federal Government to cities including Hong Kong, London, Los Angles, Lima, Buenos Aires and Mumbai.
Jetstar's international businesses moved into losses driven by border closures. Domestic flying in New Zealand was planning a return to near-full capacity by end-August but remains flexible given changing restrictions.
Jetstar Asia in Singapore is reducing its fleet and workforce by more than 25 percent. Jetstar Japan was impacted by local lockdowns but resumed all domestic routes in July and is planning to operate 75 per cent of pre-COVID capacity in August.
In June, the Group announced its plans to exit Jetstar Pacific in Vietnam, of which it is a 30 percent shareholder.

(Chart source: TradingView)
Qantas Loyalty
Qantas Loyalty achieved an underlying EBIT of $341 million – the largest single positive contribution to the Group's FY20 profit and only 9 percent lower than its result last year. The main reasons for this decline were lower earnings from travel-related products and a softening in consumer spending on credit cards.
Total Frequent Flyer membership increased by 4 percent and membership of the Qantas Business Rewards program (aimed at small enterprises) increased by 20 percent.
Despite limited opportunities to redeem points for travel, Frequent Flyer member satisfaction set a quarterly record in Q4. This is supported by engagement initiatives including automatic extension of tier status for 12 months; more opportunities to earn points on the ground, including with BP fuel (with more than 500,000 signing up for this part of the program) and Afterpay (with 55,000 members signing up to earn in the first four weeks); and a significant increase in reward seats on domestic flights.
Other new businesses, including retail, health insurance and car insurance, continued to diversify Loyalty's earnings.
Qantas Airways Limited (ASX: QAN)

Stock Overview

Sector

Transportation

Risk

Low to Medium

Market Cap

$7.79 billion

Share Volume

1.89 billion

EPS (FY)

-$1.296

PE RATIO

-

Yearly Dividend Yield

6.83%.

Target Price (s)

T1 $5.50 T2 $6.60

Stop Loss

$3.30

Recommendation

Buy

52 weeks High

$7.460

52 weeks Low

$2.030

Managing Director

Mr Alan Joyce

Non Executive Directors
Ms Belinda Jane Hutchinson
Mr Michael Gerard L'Estrange
Veye's Take
Qantas is one of few airlines with continued access to long term, unsecured bond markets. Access to this and other funding sources in recent months – including secured debt and equity markets – during the COVID crisis reflects the national carrier's strong overall position, the importance of aviation to its home market of Australia and its clear recovery plan. Despite significant uncertainty across most markets, the Group remains well positioned to take advantage of the eventual return of domestic and, ultimately, international travel demand. In the meantime, Qantas Freight and Qantas Loyalty continue to generate significant cashflow and charter operations for the resources sector are performing strongly. The Group's strong liquidity position and low net debt provide financial flexibility to accelerate the recovery phase. A three-year recovery plan is to improve operational cash flows and deliver $1b in ongoing annual savings from FY23. The stock has already turned bullish on daily t/f. It is trying to make an inverse head & shoulder pattern on the long-term charts, which if completed can have the potential of growing strongly in the medium term. Veye recommends a "Buy" on "Qantas Airways Ltd" at the current price of $4.22
Download
Disclaimer
Veye Pty Ltd(ABN 58 623 120 865), holds (AFSL No. 523157 ). All information provided by Veye Pty Ltd through its website, reports, and newsletters is general financial product advice only and should not be considered a personal recommendation to buy or sell any asset or security. Before acting on the advice, you should consider whether it's appropriate to you, in light of your objectives, financial situation, or needs. You should look at the Product Disclosure Statement or other offer document associated with the security or product before making a decision on acquiring the security or product. You can refer to our Terms & Conditions and Financial Services Guide for more information. Any recommendation contained herein may not be suitable for all investors as it does not take into account your personal financial needs or investment objectives. Although Veye takes the utmost care to ensure accuracy of the content and that the information is gathered and processed from reliable resources, we strongly recommend that you seek professional advice from your financial advisor or stockbroker before making any investment decision based on any of our recommendations. All the information we share represents our views on the date of publishing as stocks are subject to real time changes and therefore may change without notice. Please remember that investments can go up and down and past performance is not necessarily indicative of future returns. We request our readers not to interpret our reports as direct recommendations. To the extent permitted by law, Veye Pty Ltd excludes all liability for any loss or damage arising from the use of this website and any information published (including any indirect or consequential loss, any data loss, or data corruption) (as mentioned on the website www.veye.com.au), and confirms that the employees and/or associates of Veye Pty Ltd do not hold positions in any of the financial products covered on the website on the date of publishing this report. Veye Pty Ltd hereby limits its liability, to the extent permitted by law to the resupply of services.