Bank of Queensland
Team Veye | 09 Jan 2018

ASX - BOQ
| Recommendation | Buy |
| --- | --- |
| sector | Banks |
Bank of Queensland Limited
Bank of Queensland Limited (ASX: BOQ) stock rallied over 10.2% in the last six months (as of Jan 8th, 2018; Source: Google finance) and still trading at a solid dividend yield of 5.9%
The bank reported a decent performance in FY 17 delivering a 5% growth in the cash earnings over the last year to $378m. This included a 16 million dollar profit due to the disposal of a vendor finance entity. Excluding this one-off item, the cash earnings enhanced by 1 per cent to $362m. Further, the earnings per share grew by 2 per cent to 97.6 cents per ordinary share. The return on equity enhanced 10 basis points to 10.4 per cent. The lending's grew $665m in FY 17 but the net interest margin reached 1.87 per cent, that was down 7 basis points from last year. BOQ had a cost to income ratio of 46.6 per cent and the Loan impairment expense of just $48m. However, there was great improvement in the second half of the FY 17. Lending growth returned in both the housing and commercial loan portfolios. Net Interest Margin rebounded in the second half to 1.9 per cent. This was driven by a recovery in term deposit spreads. They also cut their loan impairment expense. Additionally, BOQ have grown the at-call transaction account balances at a compound annual rate of 9 per cent since 2015. BOQ have achieved even stronger growth in mortgage offset accounts, at a compound growth rate of 32 per cent.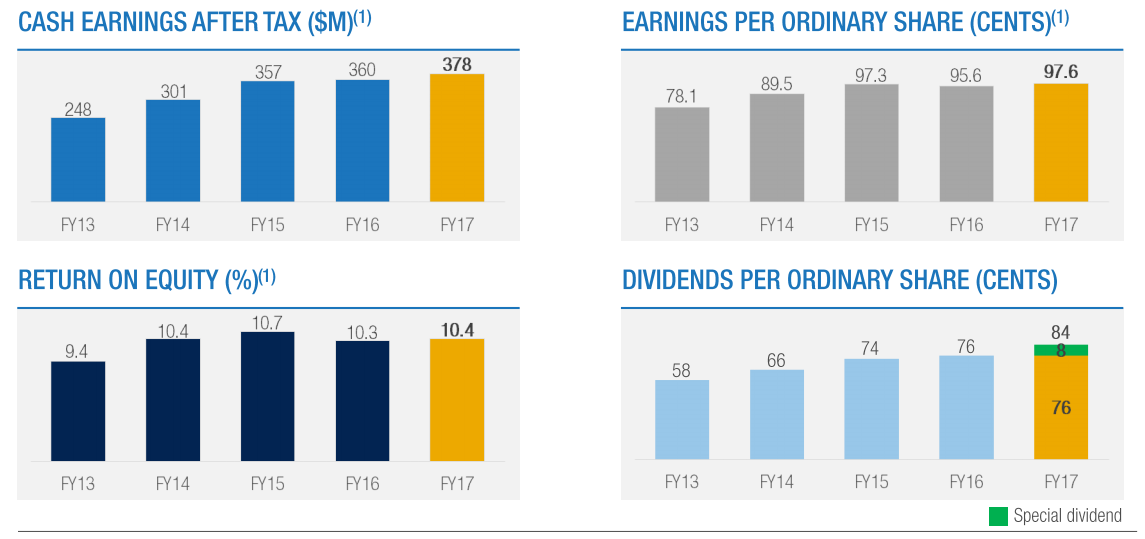 (Source: Company presentations)
Bank of Queensland Limited (ASX: BOQ) finished raising $350 million through the issue of 3.5 million Capital Notes for $100 each. Moreover, after the strong investor demand, the size of the offer has been increased from $325 million to $350 million. The bank has also confirmed the allocation policy applicable to the Offer and the Distribution Rate applicable to the first Distribution in respect of the Capital Notes, which is expected to be paid on 15 February 2018. Moreover, the first Distribution payment would be $0.5211 per Capital Note and is expected to be paid on 15 February 2018. The Distribution Rate for the first Distribution payment, that is for the Distribution Period from (and including) 28th December 2017 and ending on (but excluding) 15th February 2018 (being a period of 49 days), will be 5.55% per annum.
BOQ have a very strong capital position at 9.39 per cent Common Equity Tier 1 as at 31st August 2017. There are some tailwinds in 2018 that would further strengthen this position by 20 to 25 basis points. This provides the bank with flexibility to consider capital management options in the future. Moreover, a dividend of 46 cents was distributed in FY 17, including a special dividend of 8 cents per ordinary share, which brought the full year dividend to 84 cents per ordinary share. The special dividend was made possible by BOQ's very strong capital position. Additionally, the bank's capital position gives the bank the capacity to grow faster.
The bank is improving its asset quality with impaired assets as a percentage of total loans was down to 44 basis points in FY17. The loan impairment expense was just 10 basis points of total loans in the second half. Moreover, all portfolios had continued to perform well across a range of credit quality metrics. Overall, the bank remained comfortable with the health of the portfolio and there are no signs of systemic stress emerging.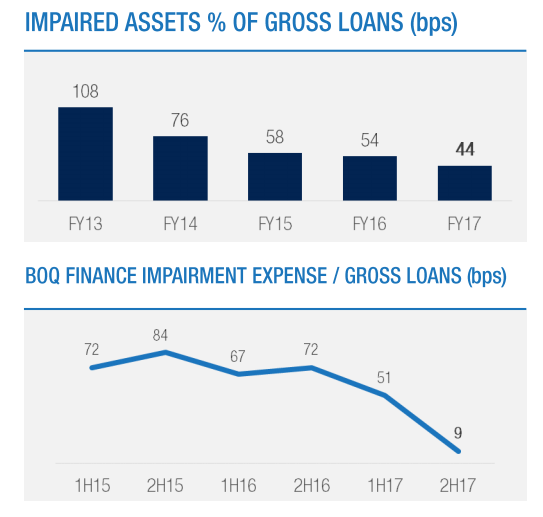 (Source: Company presentations)
In FY 17, BOQ niche businesses grew further. BOQ Specialist has posted strong loan growth across both its housing and commercial loan books. BOQ Finance have made another strong contribution. The Business Banking target segments grew, albeit from a small base. The loan balances in the niche business banking segments of Agribusiness, Corporate Healthcare & Retirement Living and Hospitality & Tourism have increased by $309 million dollars to $1.5 billion in FY 17.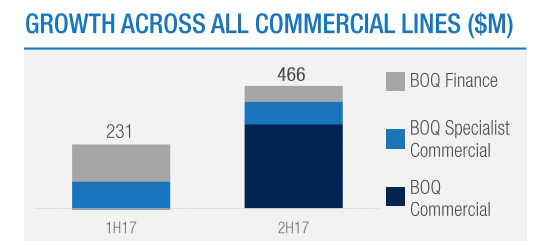 BOQ had delivered on the 1 per cent underlying expense growth target and the underlying expenses were $510 million in FY17. BOQ are continuing to invest in digitizing the processes, which would have the dual benefit of improving customer experience as well as improving efficiency. We give a buy Recommendation on BOQ at $12.83
Download
Disclaimer
Veye Pty Ltd (ABN 58 623 120 865) authorised representative (AR No. 001261006) of Vested Equities Pty Ltd which holds an Australian Financial Services License (AFSL No. 478987). Veye is authorised to share only generic financial views through its website, reports and newsletters without taking into consideration your personal financial needs or investment objectives. Although Veye takes the utmost care to ensure the accuracy of the content and that the information is gathered and processed from reliable resources, it is recommended you seek professional advice from your financial advisor or stockbroker before acting on any of our recommendations. Veye Pty Ltd advises it's users to pursue investing as a long-term goal. Stocks are subject to real time changes therefore all the information we share represents our views at the date of publishing and we request our readers not to interpret our reports as direct recommendations. Past performance is no indication of potential future performance. The securities and financial products we study and share information on in Veye Reports may have a product disclosure statement or other offer document associated with them. You should obtain a copy of these documents before making any decision about acquiring the security or product. You can refer to our Terms & Conditions and Financial Services Guide for more information. Veye Pty Ltd confirms that the employees and/or associates of Veye Pty Ltd do not hold positions in any of the financial products covered on the website on the date of publishing this report (as mentioned on the website www.veye.com.au).