Does riding the stock market roller coaster look scary?
Team Veye | 20 Jun 2022
When the markets are turning scary, is every player getting afraid?
Only some, because while good Investors wait for bull market, great Investors wait for bear market.
Trust me this correction has the power to make you rich. Just be ready to grab the opportunity
Firstly, it's important to remember bear markets can be terrifying, annoying and stressful. But the best part is they don't last forever & they provide us with opportunities that can be life changing, if properly taken advantage of.
Secondly, never sell in panic. Because you may need to buy these at higher price later. Two Years from now you may be able to enjoy very good profits. Selling near Panic as shown below can ruin your wealth creation dream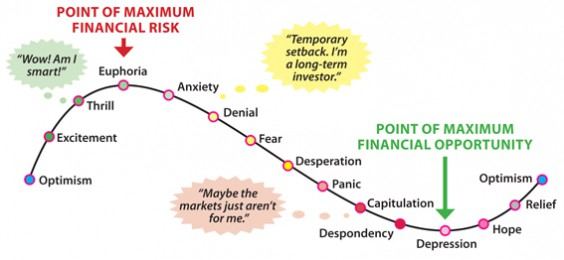 During bear markets, the one thing you should not do is completely take your eyes off the market and be unprepared. Things can change in a hurry and when the next bull arrives, the best opportunities usually come within the beginning stages of a new bull market.
Remember that the big money is in the big swing, owning some fresh leaders during the next uptrend. That is really where most of your focus should be and, when looking back in a few years, will be the biggest factor in your results.
Study History; As Jesse Livermore stated "...Wall Street never changes, because human nature never changes." Study previous bear markets and how they bottomed. Study previous market winners. Study so you have reference when things repeat and can act with confidence
Markets have always made new ATHs This too shall pass and markets will climb further but that needs a lot of patience and experience to hold tight and add more in corrections.
One looked extremely foolish "buying the dip" in 2008 and 2020. But, people (at least some) who did that ultimately created generational wealth.
Same can happen in 2022.
Disclaimer
Veye Pty Ltd(ABN 58 623 120 865), holds (AFSL No. 523157 ). All information provided by Veye Pty Ltd through its website, reports, and newsletters is general financial product advice only and should not be considered a personal recommendation to buy or sell any asset or security. Before acting on the advice, you should consider whether it's appropriate to you, in light of your objectives, financial situation, or needs. You should look at the Product Disclosure Statement or other offer document associated with the security or product before making a decision on acquiring the security or product. You can refer to our Terms & Conditions and Financial Services Guide for more information. Any recommendation contained herein may not be suitable for all investors as it does not take into account your personal financial needs or investment objectives. Although Veye takes the utmost care to ensure accuracy of the content and that the information is gathered and processed from reliable resources, we strongly recommend that you seek professional advice from your financial advisor or stockbroker before making any investment decision based on any of our recommendations. All the information we share represents our views on the date of publishing as stocks are subject to real time changes and therefore may change without notice. Please remember that investments can go up and down and past performance is not necessarily indicative of future returns. We request our readers not to interpret our reports as direct recommendations. To the extent permitted by law, Veye Pty Ltd excludes all liability for any loss or damage arising from the use of this website and any information published (including any indirect or consequential loss, any data loss, or data corruption) (as mentioned on the website www.veye.com.au), and confirms that the employees and/or associates of Veye Pty Ltd do not hold positions in any of the financial products covered on the website on the date of publishing reports. Veye Pty Ltd hereby limits its liability, to the extent permitted by law to the resupply of services.